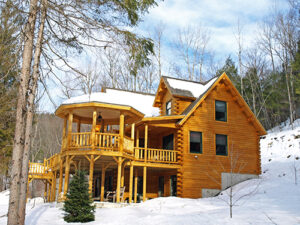 If you're toying with the idea of building a Katahdin Cedar Log Home, a log home show is a great place to start! At the show, you'll have a chance to meet with Katahdin representatives and dealers in your area who can answer all your questions. You'll be able to see our highly efficient Energy Envelope System and whole log wall construction up close. Northern White Cedar has many benefits as a building log, including natural insect and rot resistance as well as low moisture content so important for a stable structure.
Late Addition: if you're wondering about our sister brand, Arborwall Solid Cedar Homes, this Open House Event in Flagler Beach Fla., is one to check out!
So, what are you waiting for? Mark your calendar or one of these events in the new year and get started on your log home journey. Don't forget, it's a great idea to check out our events page for more events as they are scheduled!
Feb 3-5            Columbus, Ohio Log Home and Timber Frame Show
NEW!
Feb 11             Flagler Beach, Fla.,Arborwall Log Home Open House
Mar 10-12       Nashville, Tenn., Log Home and Timber Frame Show
Mar 25-26       Atlanta. Ga., Log Home and Timber Frame Show
NEW DATE!
April 28-30     Burlington, Vt. Log Home and Timber Frame Show