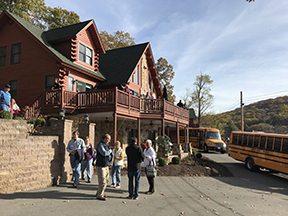 With the one-year mark of the pandemic passing this month, it seemed like a good time to take stock of changes in the way Katahdin Cedar Log Homes and log home show events are evolving. Log home events were such an integral part of connecting manufacturers, builders, dealers and other log home suppliers before Covid-19, we weren't quite sure what the future would hold.
Carrying on with Spirit and Safety
From the very beginning, Katahdin Cedar Log Homes focused on employee and customer safety. When the first log home shows started canceling in March 2020, we took stock of our events calendar and other promotional activities. Our planned Logapalooza event in May 2020 was reluctantly cancelled before it was even announced. Instead we offered the chance to take a virtual tour of several log homes on our website Showcase of Homes webpage.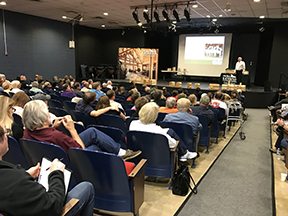 Mill Tour Upgrades
One of our long-standing traditions at Katahdin Cedar Log Homes has been our famous Mill Tours. Led by President and CEO David Gordon, these informative tours have the ability to energize customers as well as educate them on our best practices in manufacturing and recycling. Once society began shutting down, we reassessed our practices on mill tours and developed solutions that met CDC guidelines for safe practices, including 100 percent masking for short trips made in enclosed vehicles, and social distancing in open areas in the mills or outdoors. Hand sanitizer stations for employees and guests were set up and we limited groups to just two or three from the same household. We also offered the opportunity for Zoom conferencing with dealers and sales representatives to be able to review plans and discuss design options.
Virtual Log Home Experiences
For Log & Timber Home Shows  & University organizer Eric Johnson, 2020 was a year of moving targets. "We were at the mercy of each event location, and ultimately had to cancel the entire show schedule," Johnson explained. He felt it important to inform the log home community of the cancellations all at once, rather than drag out decisions as the pandemic progressed. "It was disheartening because one of the great things about our shows is facilitating the face-to-face commerce that makes log home buying such a personal experience," he added. They too switched to online educational forums, continuing their University classes to virtual attendees throughout the pandemic. As to the return of in-person log home shows, Johnson hopes to start up this fall. All venues will be dependent upon state jurisdictions and regulations regarding gatherings.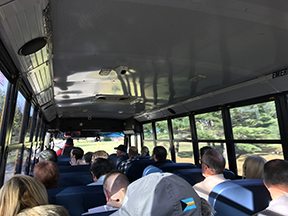 Katahdin's YouTube Tours
If you're not quite up to venturing out, grab some popcorn and a beverage and enjoy Katahdin Cedar Log Home's YouTube channel. We've just posted new videos covering our famous automated House Line, as well as common questions we often hear from folks at log home shows, such as What is a Purlin and how our Energy Envelope System can save energy and money.
Once the pandemic issues begin to abate, the folks at Katahdin Cedar Log Homes look forward to seeing our friends and customers in person at events and shows. Keep checking our Events page for updates!