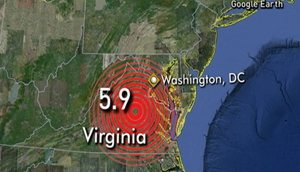 When dreaming about a new log home, most homebuyers consider rain, snow temperature and other meteorological events as something to plan for. Pitch of the roof, rain gutters, soil drainage, and adding a generator for power outages are the usual considerations for most homeowners in the Eastern half of the country.
That's what made the 5.8 magnitude earthquake in Virginia on August 23 this year so astonishing. Centered in the tiny hamlet of Mineral, Va., the earthquake rattled homes up and down the Eastern seaboard, and did significant damage to structures in the immediate area, including Washington, D.C. The Washington Monument, the tallest structure in the capital, suffered some large cracks in its limestone exterior and damage to the National Cathedral was extensive.
In the area of Mineral, people were assessing the damage the freakish trembler did to homes and businesses. Brick storefronts in the nearby town of Culpepper rained bricks onto the sidewalks below.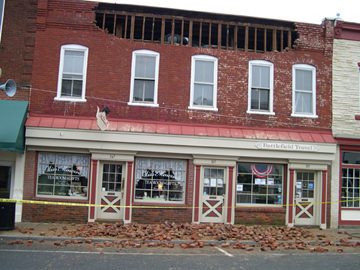 Ray and Anne Marie DiCarli were away from their home when the earthquake occurred and were fearful what they might find at their Katahdin Cedar Log Home situated just 6 miles from the epicenter. "I was surprised the house did so well," said DeCarli, "An earthquake was the last thing I thought would happen near our home." When he saw the condition of the house, "I nearly fell down in surprise!" A neighboring friend whose home was constructed of high insulation Styrofoam blocks suffered a lot of cracks and damages from the earthquake. Other neighbors noticed broken windows, fallen chimneys and other significant damage.
As for his Katahdin home, "Our log home did well. We lost some glassware and picture frames and noticed a minor drywall crack," DeCarli noted. "Other than that, the house was structurally sound." The reason behind this is the log home's unique construction. Because the individual logs offer a tiny measure of flex, they do not transfer the earthquake's energy through the house and the damaging movement is dissipated. Engineers in earthquake zones use similar flexing characteristics when designing quake-proof buildings.