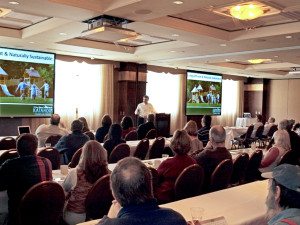 If you haven't had a chance to attend one of our Log & Learn Seminars yet, you're missing something special! Although we encourage folks to come visit our manufacturing facility to see just how our Katahdin Cedar Log Homes are created, sometimes that's just not feasible. So we created our Log & Learn Seminars, which brings as much information about how we do things up here to locations in regions where log homes are a popular choice.
We generally try to schedule these events during off-building season times so that we'll have the best resources available to answer your questions. Locations are selected based on several factors:
Is there an active log home building market?
Is the location within easy driving distance from population centers?
Are there completed Katahdin Cedar Log Homes nearby to tour?
Is there a meeting facility near the homes and the destination that can host a large group comfortably?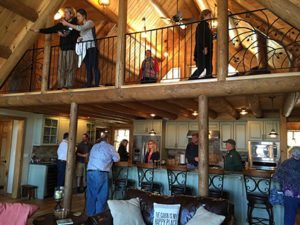 No Information Overload
For those customers who have attended log home shows and been overwhelmed with the overload of information, a Log & Learn seminar is a much more relaxed and focused experience. Our seminar guests are seated in a comfortable room, we present a great overview about how we manufacture log homes, why we use cedar, and our approach to customer service. We also tackle some of the practical side of things, including tips for selecting land, how financing for construction works, working within a budget, and how to select a builder.
Always included in a Log & Learn Seminar is a tour of at least one Katahdin Cedar Log Home in the area. We've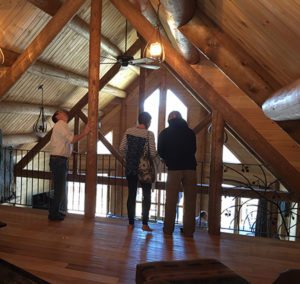 had some very positive feedback in recent seminars where we've had several open houses to tour within the driving radius of the event location. In some instances, one of the homes may be in the construction phase so you'll be able to see how that comes together.
One of the most important things about touring these homes with the plans in hand is that you can really get a feel for how big a 12-by-12-foot bedroom or a 12-by-22-foot great room really is. Dimensions that may seem small on paper are often very roomy and comfortable in the actual home.
What do you need to bring to a Log & Learn Seminar? Katahdin provides a lot of materials and information as part of the seminar,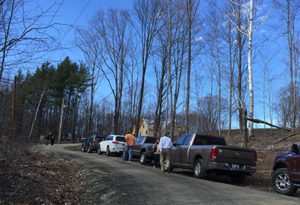 but if you have a scrap book or plans that you love, bring that along! If you've been prequalified for a construction loan, that information can help you understand your budgeting process. And, because you'll be touring some fantastic properties, we recommend comfortable walking shoes and take pictures so you can remember certain features you like. But don't pack a lunch, because we provide that too!
Right now we're working on our next seminar in October, which— if it all comes together—will feature as many as five Katahdin lakeside homes, a terrific resort location and some great dealers to speak with about your ideas and plans. Come for the day or make a mini escape and stay for the weekend! Stay tuned!