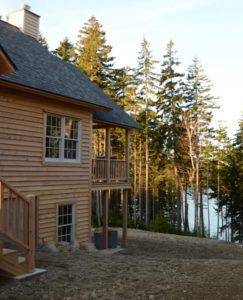 Folks considering building a log home often leave some decisions to the last minute, even when the choice can affect the appearance of their log home. Katahdin offers a variety of log profiles and corner options—the one you choose can affect your log home's appearance and style in the long term. So, it's a great idea to understand all the options and the style that best suits your individual fashion sense.
Exterior Log Profiles
The profile or shape of your exterior log faces are available in three options:
Hand-peeled—This milling process mimics the uneven yet pleasing appearance of a hand peeled log. Many of our more senior mill workers have spent the long summer days with a drawknife shaving the cedar logs down to a uniform size. Now, our computerized house line can replicate that hand-peeled effect in a consistent, yet rustic appearance that a traditional log home style often reveals. The face or profile of the log is a rounded shape. Available in 6", 8" and 10" logs.
Milled — This profile is a more contemporary look for log homes, with a smooth, milled rounded profile that provides a clean and consistent look on the finished log wall exterior. These milled logs still have a rustic log feel but a smoother surface provides a smooth canvas for stains and sealing. Available in 6", 8" and 10" logs.
Clapboard —This flat-faced, slightly angled profile replicates a clapboard style face that is common in New England homes. The difference here is the structural

Butt-and-Pass Corner

integrity provided by a solid log wall. Though this style has been available for many years, recently it has become the foundation for Katahdin's sister company, Arborwall Solid Cedar Homes. Available only in 6" logs.
Corner Finishes
Corners are another element to the building's construction and appearance that will affect your home's appearance and style. Katahdin offers several types of corners:
Butt-and-Pass Corner — This mortise and tenon style corner alternates the overhang for each course of logs. On one side the log "butts" up to the perpendicular log, which extends beyond the corner. On the next course the butt-and-pass logs are reversed, and so on. The result is a staggered log extension of the corner logs, like ladder rungs along the height of the wall corner. The final effect is usually quite rustic.
Saddle Notch Corner — Here, the logs are notched on both the upper and lower edges to fit together tightly. The appearance is an extension of the wall that may be trimmed up close to the intersection or extended to a desired length. Gentle curves can add a fluid look to saddle notch corners with a small extension at the bottom, curving to a wide log extension at the top of the log wall, where it connects to the eave or roof. These are often shaped and finished on-site. This is available on 90-degree corners only.
Corner Board — This corner finish is a clean look, and often used for more contemporary style log homes. Here, the logs terminate into a corner post that may have flat or rounded outside profiles. This may require some field fabrication. This is the corner finish used on Arborwall homes and those with clapboard exterior profiles.
Dovetail Corner — Here the notch is cut with an angled notch that interlocks like the drawer edge in fine cabinetry. This is used most commonly on a flat-faced log to simplify the angles. This is available on 90-degree corners, on 6"x8" logs only.
With these options, many customers can see the different combinations that suit their style and vision for their Katahdin Cedar Log Home.