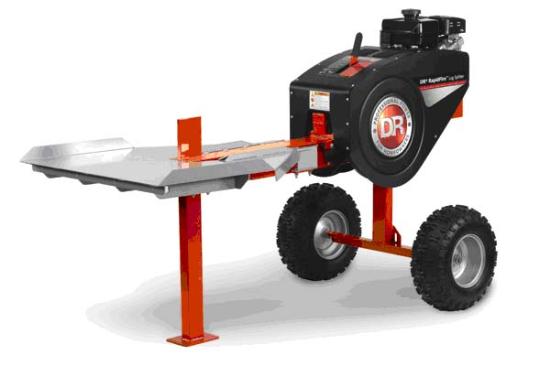 Your new log home sports a beautiful new fireplace or woodstove—now what about the wood? If you're serious about your wood supply (and many of us here in Maine are) you may want to invest in a wood splitter to save money and time splitting your own wood. One thing to note is that three factors to consider are time, power and speed. There are a number of options out there:
DR RapidFire Log Splitter This model cycles through the splitting process in just three seconds. It's powerful, with the equivalent of a 34-ton hydraulic splitter. The splitter uses kinetic energy produced through two 75-pound cast iron flywheels to replace the hydraulic "push" of a traditional splitter. The Rapid Fire is available with a pull cord or electric start. The splitter retracts automatically enabling the operator to handle wood, instead of retracting the plunger. If you've ever bemoaned the slowness of a hydraulic splitter, this is the model for you. The splitter features a two-handed operation to engage the plunger, so even though it's fast it is still safe. The engine on the DR model is a Subaru.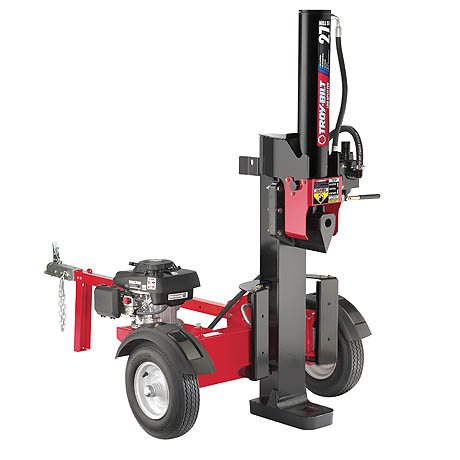 Troy-Bilt Hydraulic Splitter This company offers two levels of power, 27-ton and 33-ton and relatively fast cycle times of between 15-19 seconds. The strength of the splitter is determined by the size and density of the logs being split. If you're harvesting old growth hardwoods with large diameters, the higher power might be best. Smaller trees and softer woods might only need 27-tons of power. Troy-Bilt uses Honda engines for power and is available with an electric or manual start.
Tractor-powered hydraulic splitters These are available from a number of equipment manufacturers and can be attached to a 3-point hitch in either vertical or horizontal positions. Check with the tractor dealer who carries your brand tractor for options.