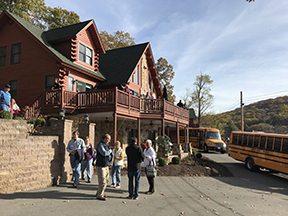 Looking for in-depth answers to your questions about designing and building your dream Katahdin Cedar Log Home? If you have a chance to attend one of our amazing Logapalooza Log Home Seminar and Home Tours, we highly recommend it! Need more information? Here are five great reasons to attend the next Logapalooza this year.
Log Homes and More Log Homes! With five or more Katahdin log homes to tour, Logapalooza events provide a unique opportunity to get a sense of the space inside a log home. There's no substitute for walking into a Katahdin Log Home and experiencing the soaring truss and purlin ceilings, different styles—from rustic lodges to sophisticated retreats—and the expression of great design. We'll provide the tools to understand each log home on the tour, including annotated floor plans, dimensions, materials, and stains. You'll also get a chance to meet with the log home owners on the tour to get their take on the excitement of building and living in their Katahdin homes.
Learn how energy efficiency really works. Many Logapalooza attendees tell us that they learned so much about energy efficiency measures in our log homes. We talk about the options to improve your Katahdin log home's performance—ideas that won't cost more but will save big. These improvements include those we've implemented and perfected over the years to save you time and energy. And let's face it, energy efficiency is now an important factor in building codes, so we can take the mystery out of energy auditing and all that goes with it.
Answers to Questions with No Sales Pressure. And we mean ALL your log home questions—we won't leave until you're satisfied. At Logapalooza we gather together our local dealers, builders and Katahdin staff to take an in-depth look at your questions, comments and concerns. Most folks who attend Logapalooza have never built a home, let alone a log home. That's why we encourage all questions, from the basic to the complex.
Learn about our manufacturing process, from log to log home. At Logapalooza we bring all the information about our manufacturing process to the presentation, including how a Northern White Cedar tree becomes a log in your log home. All along the way, you'll learn about our attention to quality and our desire to utilize every bit of the tree without waste. Katahdin's always been focused on using every part of the tree, so we've developed adjacent product divisions to produce fencing, decking, and garden accessories. We also convert sawdust and scrap cedar into steam energy with our industrial biomass boiler.
Get great new ideas! It's one thing to look at log homes online or in magazines, but spending time with other log home enthusiasts and professionals is a tremendous resource. We include lunch in our complimentary Logapalooza seminars, so you'll have the change to meet and chat log homes with other attendees. Perhaps you'll learn about a new way to design a grand entrance or ways to take full advantage of a sloping lot. We find that many folks pick up solutions over lunch that they never thought possible.
Our next Logapalooza Event is scheduled for Saturday, June 17 at Sunday River, Bethel Me. To date, we've lined up 7 homes to tour, including this home.  For event details, photos and RSVP information, please visit our event site.