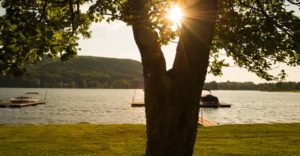 Our last Logapalooza event in Vermont was such a success, we've been planning the next one ever since. This time, folks from Pittsburgh, Baltimore, Washington, DC, and all points in between are invited to this fall's Logapalooza in the four-season resort of McHenry, Md. Nestled in the hills bordering the Deep Creek lake resort area, this is a splendid setting for some spectacular Katahdin Cedar Log Homes.
We'll be hosting our day-long program starting with a seminar that can answer all your questions about building a Katahdin Log Home of your dreams. Then after the seminar, we'll tour *at least 3* nearby log homes so you can experience first-hand the look and feel of a finished log home. The possibilities are endless when it comes to your own design, and you'll see some outstanding examples of Katahdin's well-designed, energy efficient cedar log homes.
We're still getting all the details finalized. But we know this much: we'll be located at a great destination resort, with the opportunity to make a weekend out of Logapalooza and still make it home in time to hand out treats to the little goblins and ghosts.
As soon as we have all the details — and the log homes— mapped out we'll update you. In the meantime, save the date of October 29 for an informative, educational and amazing Logapalooza!