LogHeads on Great American Country Network is a Fun, Family Design & Build Show
When Tommy Mitchell first got the call from Katahdin's David Gordon to join the team to build and furnish the first log home on a network design and makeover show, he and his wife, Gwen, started on a fast ride to fame in the log home and furniture industry.
Nine years later, the Mitchells now are stars of their own reality series, LogHeads, which airs on Great American Country network. The show airs at 9:00 p.m. (Eastern) on Wednesdays, with all new shows curently broadcasting. The "logs to riches" story follows the owners of Rocky Top Log Furniture Tommy and Gwen Mitchell as they work with cedar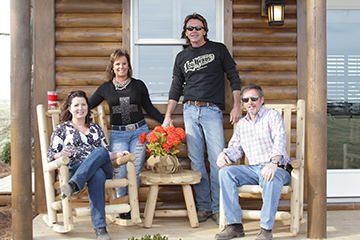 logs to construct furniture, homes and other projects. And David Gordon's Katahdin Cedar Log Homes provides the log home packages and cedar siding featured on the show.
After the Mitchells' debut in reality television, they provided their distinctive cedar log furniture for a number of home television shows. They were approached to develop a show centered around their cedar furniture; log home design and construction; and behind-the-scenes look into their bustling business in Lancaster, Ky.
Mitchell and his company constructed a Katahdin Cedar Log Home for their initial pilot show, and later built an executive cabin from a Katahdin custom-designed package (right and below). "We plan to film a special build of a one-bedroom, loft-style Katahdin log home with porches on the front and back," Mitchell said.
"The show is really a fun, family show that shows how log homes are designed and built," Mitchell explained. Some of the projects featured in upcoming shows include cedar furniture for the Wounded Warriors Boulder Crest Retreat; a special project for Knotts Berry Farm; and a makeover for country musician Craig Morgan's home. "We are proud to represent Katahdin Cedar Log Homes and be able to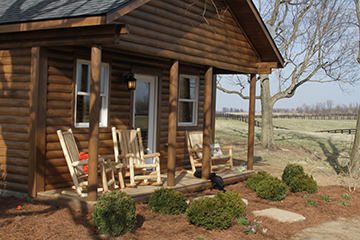 show off what we do with cedar logs," Mitchell added.
"Tommy and Gwen's Log Heads show is a great tool for Katahdin's customers," said David Gordon, president of Katahdin Cedar Log Homes. "Folks who are interested in building their own dream log home can see exactly how easily our product comes together and learn about the benefits we are so proud of."
Rocky Top Log Furniture and Railing is owned and operated by Tommy and Gwen Mitchell. The company employs more than 50 team members, yet retains its character and family-focused atmosphere they've always had. Their corporate headquarters are located in Lancaster, Ky., and operate two retail stores in Pigeon Forge, Tenn. Great American Country is part of Scripps Network Interactive and is headquartered in Knoxville Tenn. Log Heads is produced by Media Meld Studios, Los Angeles, Calif.