Arborwall is the Perfect Combination!
If you've spent any time watching HGTV's Fixer Upper show, you'll be familiar with Joanna Gaines' farmhouse style. If you love farmhouse style, Katahdin has the perfect solution: our Arborwall Solid Cedar Homes combine the best features of traditional cedar log homes, with a distinctive farmhouse style flair.
What is Arborwall?
In case you missed our announcement last year, Arborwall is a custom-built option that moves the traditional log constructed home into the realm of modern design, with clean lines, open interiors and fresh exteriors. Arborwall mixes centuries-old construction techniques with modern precision manufacturing and a sustainable, energy efficient mindset. The exterior log profile is planed to mimic clapboard, and like all our super insulated homes, the interior walls can be finished in any medium you like.
Using the milling and construction techniques perfected by Katahdin Cedar Log Homes, Arborwall is able to combine whole log construction and stability with high-efficiency insulation and a myriad of options for finishing the interior walls. This ability to use Northern White Cedar's natural low-moisture qualities provides a finished home that is technologically and esthetically more complete than a log-sided, traditionally-framed home.
Get that Shiplap Look!
The "shiplap" treatment that often is a focal point in the television fixer upper design is a consequence of older construction styles. In homes built prior to the development of plywood, flat planks were used as sheathing inside the walls. When the plaster or sheetrock is removed during the show's demolition, often the old-style sheathing or "shiplap" is exposed.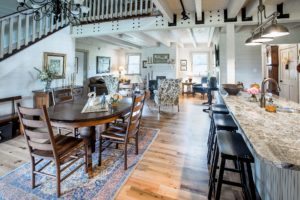 In Arborwall homes, the tongue and groove cedar paneling that completes many of the interior log constructed walls is just a fancier kind of shiplap: placed horizontally, it has the same look and feel of Joanna's wall treatments in her television renovations. Often the shiplap is whitewashed or stained with lighter hues, which can work well in any part of the home.
Open and sunny spaces
Another key to the renovations on many a television fixer upper is knocking out walls to create an open concept design. Arborwall's purlin and truss roof system can be rendered in a more contemporary fashion, using squared timbers and distinctive metal plates to connect the trusses. This purlin and truss roof system lends itself particularly well to the open concept kitchen and living area, anchored by a large, utilitarian island and a farmhouse style table for entertaining.
A Stunning Arborwall Farmhouse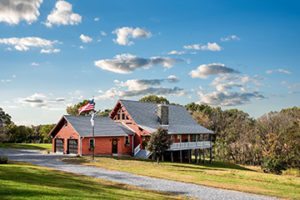 Arborwall dealers Chris and Lynne Burt completed their own Arborwall home outside of Philadelphia last year. They were considering a Katahdin Log Home but when they saw the initial designs for Arborwall, they knew that its clapboard exterior and fresh open interior would be the perfect home to build on their rolling farmland building site in Leesport, Pa. It was especially important for Lynne to be able to decorate using a mix of valued family antiques and contemporary casual style. The result is a warm, welcoming and beautiful Arborwall home.
Mix of Salvaged Finds and Modern Colors
This farmhouse style uses finishing touches of recycled advertising signs, antique kitchenware or barn objects combined with bright splashes of color in the pillows, rugs or table settings. The overall effect is homey and comfortable with a sunny open feeling throughout. Chris and Lynne have made their home cozy and comfortable while keeping their contemporary style in place.
Want to find out more?
Farmhouse style is one trend we think will be around for a while—and Arborwall can bring your dreams to life! If you're in the Philadelphia metro area, the Burts will be setting up an Arborwall exhibit at the Philadelphia Home and Garden Show this weekend, February 17-19. You can find them at their booth #337!