With the advent of highly refined digital photography and advanced manufacturing techniques, Luxury Vinyl Flooring (LVF) can be a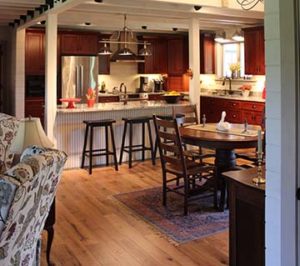 great choice for log home owners looking for something a little—or a lot—different.
What is Luxury Vinyl Flooring?
Originally developed for commercial applications, LVF is a quality crafted premium vinyl flooring with an array of beautiful designs that offer more residential design options than many traditional flooring types. We spoke with Chris Easler, Regional Vice President – East for Parterre Flooring Systems  about the applications and benefits for residential use. Parterre means literally "from the earth" and that is the source of inspiration for many of the company's designs in flooring.
Different Species of Vinyl Flooring
Parterre's flooring product is produced in a completely different method than traditional flexible printed vinyl flooring. The traditional flexible printed vinyl has a pattern repeat of about 18 inches, because that is the size of the printing roll. Parterre uses a hot press slab technique which produces a highly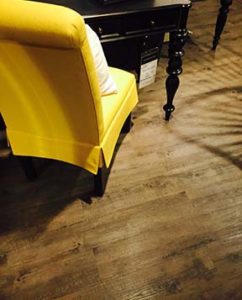 attractive, large slab of material (2 ft. by 3 ft.) that is then trimmed into tiles or planks. Because the printing and bonding process is done on a larger scale, the end result is an incredibly natural looking pattern. Add in embossing and textures to create an impressive and unique custom flooring.
Durable and Easy to Install
Originally designed for commercial installations, including multi-family, retail stores and offices, LVF are applied using pressure sensitive adhesive backing. The surface is available in three thicknesses, 2mm, 2.5mm and 3mm. As for durability, in commercial applications, longevity roughly equals 1 year per mil of thickness. With 20 mils of thickness, LVF has an expected lifetime of roughly 20 years in high traffic areas. The foam backing that makes the flooring resilient and easy on the feet is made from at least 40% recycled materials and meets LEED and California IAQ standards. And if an area becomes damaged, Easler notes, "It's easy to pop out the damaged tile and replace it."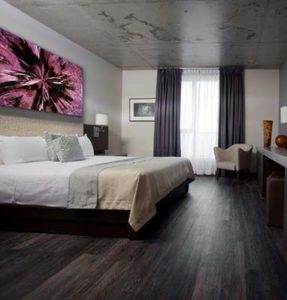 Plays Well with Others
LVF flooring can enhance acoustical effects between floors, especially if installed over an acoustical layment. The flooring also is a great partner to low thermal radiant heat as long as the radiant water temperature remains below 85 degrees Fahrenheit.
LVF is an exceptional, durable alternative to traditional flooring, and it offers some beautiful, nature-inspired designs that will enhance your new log home.