T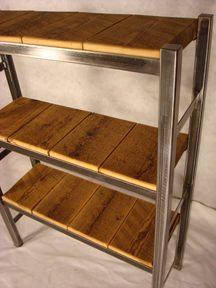 he first time you see Matthew Capps work it's striking how delicate he can make steel and stone look. His one-man studio Rock Wood &Wire Designs, is the result of listening to his artistic heart and following his dreams to northern Maine.
Capps first started working with stone as a small boy who had free run of a stonework shop, Daniel Allen Co., in Raleigh N.C. He became fascinated with the stonework and begged scraps and bits from the workers to form and shape with his own hands, "anything I could carve or polish." He first started with small figures and the inevitable chess pieces, and as he grew, learned the stonework that the shop produced for homes and businesses in the area. He spent summers and vacations working in the shop and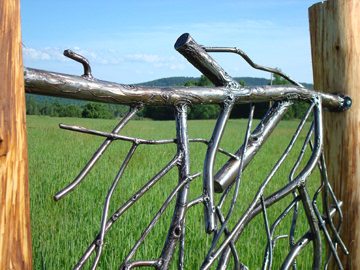 after school, began full time work on his craft. "I ended up running the fabrication shop within the Daniel Allen Co.," he said. About 10 years ago, he started to love the results he was getting from metal, especially the strength of the material. "Stone is fragile; you have one chance to not make a crack," he said. "The patience I learned in stone work trained me to put in the time with steel." He found the metalwork was "freeing" and he began to develop ideas on his own.
"The first time I mixed old wood with new and recycled steel, people said wow!" he said. "The steel was strong and heavy, but the wood calms the steel down, warms it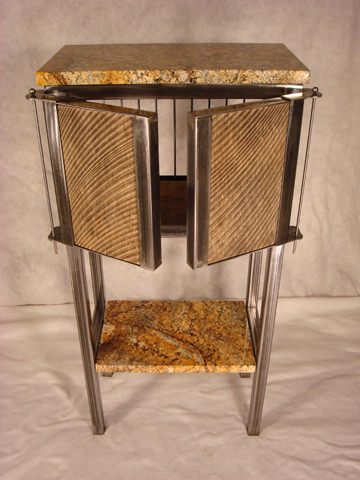 and softens everything in the piece." The unusual combination has a positive effect on the owners of his artworks, "They develop relationships with the pieces," and though his works are designed to function as containers or storage, many people let the piece just rest on its own artistic merits.
He searches the countryside of northern Maine for old steel, barn wood and other interesting items. Capps enjoys reusing things, but "I'm trying not to bring home too many things." Friends will find old boards or decrepit barns and bring him bits and pieces to incorporate into his art.
His techniques for creating the art are built upon the foundation of his stonework and interplay between steel, stone and light. The inlaid fish light boxes (below) involve a series of his stylized fish motif in granite and onyx, selected for their opacity or translucence. The inlaid fish is held in place with a thin bead of clear epoxy, which also creates a glowing outline when the box is illuminated.
For his liquor cabinet (above right), Capps selected rock maple planks that had been sawed on with a distinctive "chattering" design that is caused by missing teeth on the saw wheel. He left the maple panels unstained and natural for effect. Using steel for its properties of strength, Capps is able to form delicate leafy branches that twist and interlace as railings between two sturdy cedar posts (above left).
Capps is able to take commissions and has been invited to exhibit at several Maine Art shows this summer and fall. You can see more of Rock, Wood & Wire and Matthew Capps' work on his FaceBook page.