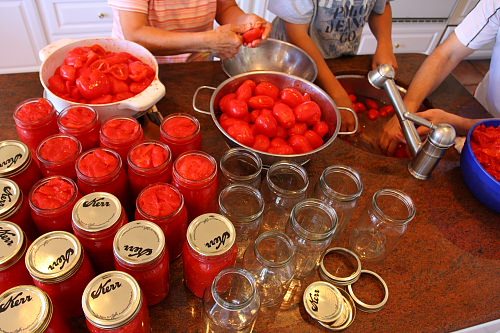 If a big vegetable garden is in your log home plans, it may make sense to make accommodations for canning your harvest. Two areas need to be addressed: the canning process and storage.
Most modern kitchens have enough space to accommodate the fixings for canning. A stove with several burners, sinks and counter surfaces to prepare the produce and enough room to allow canning participants to move freely. The equipment (canning pots, pressure canners, glass jars, large pans for syrup and brining) can all find places in the pantry or garage.  Good ventilation will help to dissipate steam and cooking odors from the kitchen area.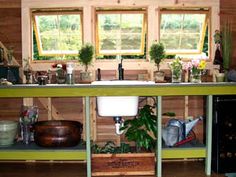 Another nifty option for those with serious canning plans, is to include a small garden/canning area that can double as a mud room in the winter. The garden room should feature a deep sink with spray attachment for washing off vegetables, cleaning tools and watering seedlings in the spring.  A good expanse of counter space adds plenty of options throughout the year. When canning season arrives, a two- or three-burner cook top —either built-in or portable— can facilitate the canning process and keep the main kitchen clean.
The other important part of canning is safe storage of your canned goods. Ideally, canned goods should be stored at between 50 and 70 degrees Fahrenheit, away from light. Basements, closets, garages and other cool dark places can also be designated for canning. Plenty of shelves designed to store the various sized jars used are essential. Some canning enthusiasts create their own old-fashioned root cellars. However you store them, make sure you can no more than what your family can consume in a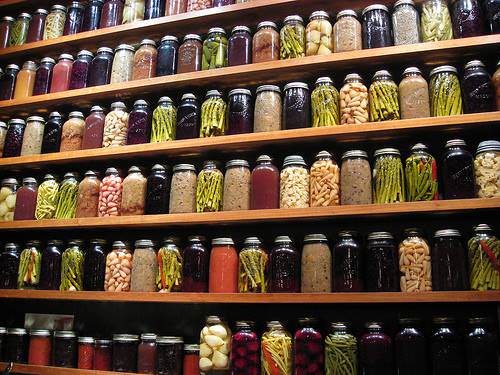 year.
For more information about home canning, visit the National Center for Home Canning's website for the dos and don'ts of canning. Note: it is very important to use tested recipes, appropriate supplies and follow guidelines precisely to avoid dangerous botulinum toxins. A quick check with a local university extension may provide training and workshops, as well.