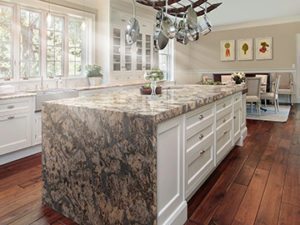 Quartz is the newcomer to kitchen and bath design. It's a dramatic contrast to last month's natural soapstone options. Quartz countertops are manufactured using natural quartz and other materials like recycled glass mixed with resin. The mixture is then formed into quartz and other shapes using high heat and pressure. Unlike natural countertop substances, quartz offers an infinite number of patterns, colors and effects depending on the desired effect.
Durability Pros & Cons
Quartz has some real benefits when compared to similarly priced granite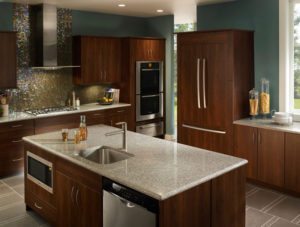 countertops. Because it is formed and finished using a resin product, quartz boasts a non-porous surface for excellent stain resistance. As a result, it needs no recurring sealing treatment like granite requires. This non-porous surface also makes quartz anti-microbial, a definite plus in the kitchen. It is heat resistant, but only up to about 400*Fahrenheit, so manufacturers recommend a trivet or other protection for hot pans. It is also not designed for outdoor use. Repeated exposure to the elements and direct sunlight may cause fading, cracking and warping.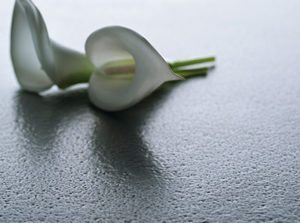 But, Oh the Colors!
The colors and designs available in quartz are amazing! Every color of the rainbow, with combinations of swirls streaks and flecks of light or dark contrasting quartz materials. And while colors and designs have long been the quartz top notes, many manufacturers are also offering different texture options. Most offer highly polished finishes for a sleek look. Silestone has added two new options to their polished surface treatment:
Suede is a matte finish that feels soft to the touch and offers high color consistency
Volcano (above right) is slightly textured for a more rustic look, which we think is a perfect selection for traditional log home design!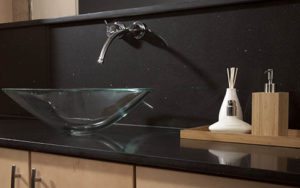 Silestone has also improved its N-Boost manufacturing process that changes the quartz formula at the molecular level for more intense color options.
Seamless Design Options
For special effects, the manufactured quality of quartz lends itself to formed shapes beyond the traditional slab format. From sinks and shower trays, to bath washbasins and shower paneling, quartz offers endless options for durable surfaces and great colors.

Edge-y Design
Another benefit of quartz is that manufacturers offer multiple edge profiles, which can amplify your countertop design. Cambria offers 19 different edges to complement its gallery of 140 designs. With this amount of options, you'll be able to create a memorable look that's just as unique as your Katahdin Cedar Log Home.