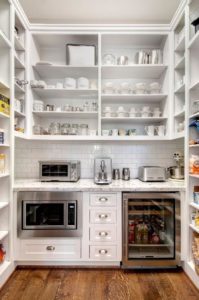 As kitchens become more integrated with main living areas, many homeowners are opting to include a pantry to help organize clutter and provide storage for a range of kitchen items. When planning your Katahdin Cedar Log Home design you'll want to consider these factors when designing your new home's pantry.
Butler's Pantry
These walk-in style pantries are making a comeback as kitchens lose upper cabinet space to open shelving designs. Some butler pantries feature extensive cabinet storage and counter space, tucked behind a door. These small rooms adjacent to the kitchen can store glassware and dishes used for entertaining along with large serving dishes. With limited counter space and a growing list of small appliances that families accumulate, a well-designed butler's pantry can provide storage homes to instant pots,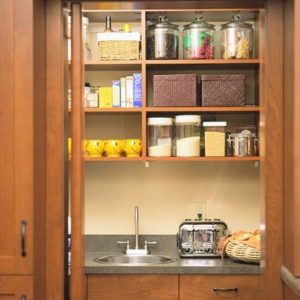 stand mixers, professional blenders and multi-function coffee makers.
Include a Workstation Space
Whether it's your complete coffee barista set-up or a counter to prepare the family lunches, setting aside a countertop space for an everyday function can streamline your kitchen traffic. With all the accessories within reach, you'll have lunches packed and lattes poured while keeping the main kitchen space clear. If you're adding this kind of separated workspace, you may want to opt for a French door or sliding barn door design to allow light and air into the space.
Pantry Storage for a Single Activity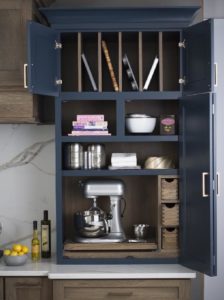 When you think about it, a pantry is just a concise way to organize a well-used kitchen. So, if baking is your passion, consider a baking pantry with baking staples, tools, bakeware, utensils and the stand mixer all in one space.
Economic Storage Spaces
If there's not quite enough area available for a walk-in pantry, consider these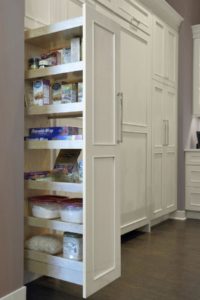 storage options as part of your kitchen design:
Slide-out pantry units— These built-ins slide out and back into cabinet walls to provide convenient storage, With their open-sided shelves, these units offer easy access on both sides.
Built-in cabinet pantry — This sets aside dedicated cabinet space within a wall unit for pantry items including food and appliance storage.
Storage doors—These doors include narrow shelving on the door to hold smaller pantry items while closing off larger shelves for bulkier storage.
Other Factors to Consider

Power Up — Large or small, if your pantry includes a workstation or prep area, make sure you include electrical outlets for any appliances you'll set up.
Plumbing — A smart move includes a small sink inside an expanded butler's pantry, especially if you're setting up a coffee bar, or drinks station.
Lighting— Ensure your pantry area has great lighting. Directed lighting for any prep areas as well as general lighting for shelving areas will make your pantry user-friendly.
Design for Continuity
If your pantry space includes cabinets, consider the same style and color scheme as the main kitchen area. Carry backsplash and flooring into the pantry space to make it a contiguous part of the kitchen area. A harmonious pantry can really add to its functionality!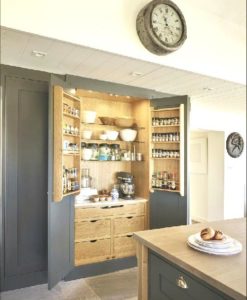 Measure Your Small Appliances
If you plan to liberate kitchen counter space by placing small appliances inside the pantry, make sure your appliances fit! Big, bulky items like stand mixers, microwaves and toaster ovens should have well-proportioned spaces for storage. The idea is to be able to put away some of these items, not shift counter clutter into another space. If you plan to build in the microwave or wine cooler, make sure your schematic includes proper electrical wiring.