Our customers often select plans with lots of windows for their Log Homes. Bringing the outdoors in —visually— is an important aspect of how many log homes are designed. One window shade company can now make those windows even more responsive to the time of day, adjust to the owner's preference and even save energy.
HunterDouglas' PowerView™ Motorization is "a revolutionary new system" that adjusts your home's window shades throughout the day, automatically.
This home automation system can adjust, raise and lower shades to react to the sun's position, daylight or nighttime changes, and even react to ambient temperature. It is compatible with many home automation systems, including Nest thermostats.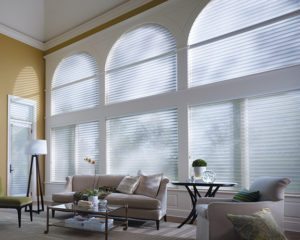 Create Just the Right Room Ambience
The shades are available in multiple configurations and styles, including designer roller shades, wooden blinds, and vertical blind options. A total of 31 different Hunter Douglas design lines can be complemented by the PowerView™ automated program. Each design line offers an array of colors, woods and fabrics, as applicable.
The system can be controlled via a smartphone app or in the house using a Pebble controller remote. With its compatibility with other home automation programs, you can design specific moods or "scenes" to enhance your home's interior views.
The shades can supplement your windows' UV protection to keep interior furnishings from fading. Lowering shades or blinds can reduce your air conditioning load during bright summer days, and increase passive solar warmth in the winter.
If motorized shades are something you plan to include in your home design, you should alert the design team at Katahdin, as there will be electrical design additions to power the shades.