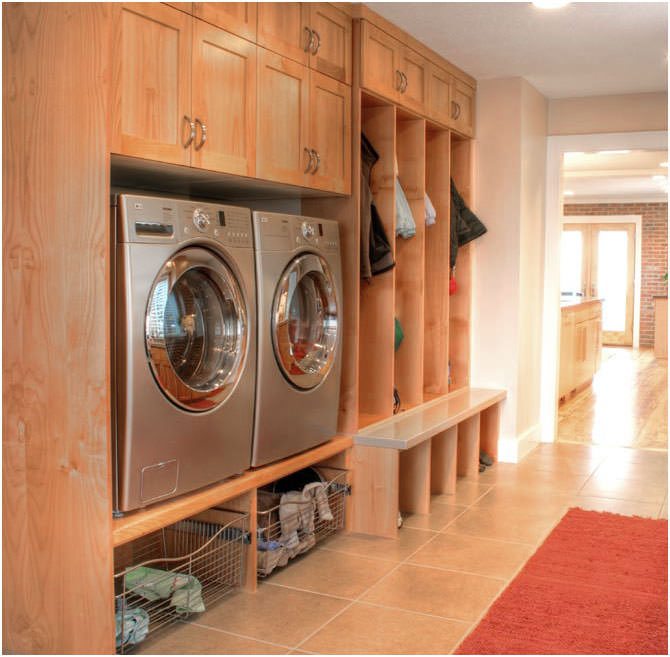 Many homeowners with active families now include a first floor laundry and a mudroom area to keep the main part of the house a bit cleaner and more organized. First floor laundries situate the washer and dryer adjacent to the kitchen in many instances to make it easy to get the wash done while preparing meals.
Mudrooms are a great way to keep clothing, shoes and boots, and athletic equipment organized. They can feature hooks or closets for hanging coats, benches for removing footwear, and storage bins or cubbyholes for sports equipment, shoes and other accessories. Mudrooms may also provide other functions that transition from outdoor to indoor activities.
One of the most sensible trends we've seen is combining these two functions into one area or room. And some of the additions and accessories can really boost the functionality of this space.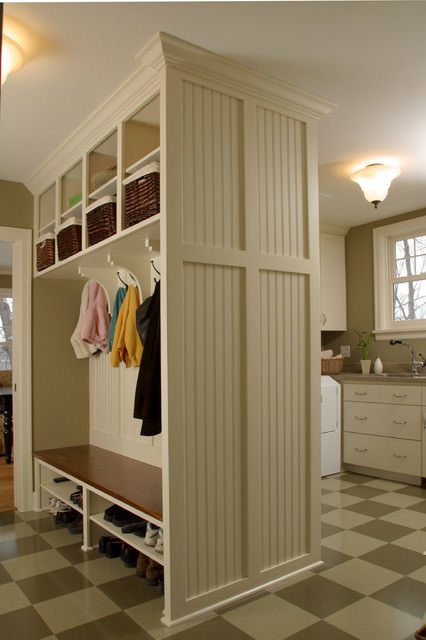 Location on the plan
This multipurpose room should be situated at the most common entrance/exit to the home, usually through the attached garage or the exterior door closest to the garage. For maximum utility, a door that opens directly to the outside can also direct family members to this first stop in the house. Consider including an eye-level window to make laundry a more enjoyable experience.
Planning work and storage
Contemporary frontload washers and driers can offer some folding and stacking areas on top, but some of them may be too high to be useful. A large surface with storage underneath is the ideal setup for folding laundry and sorting loads. Another element that can make laundry easier is a deep utility sink for soaking. A deep sink next to a table can also double up as a gardening area to wash tools and hands before entering the main house.
A combination of pegs for coats, a bench below and storage under the bench can streamline a lot of storage along a single wall. Because the mudroom area is closed off from the main home, open storage plans can accomplish much without the expense of a closet.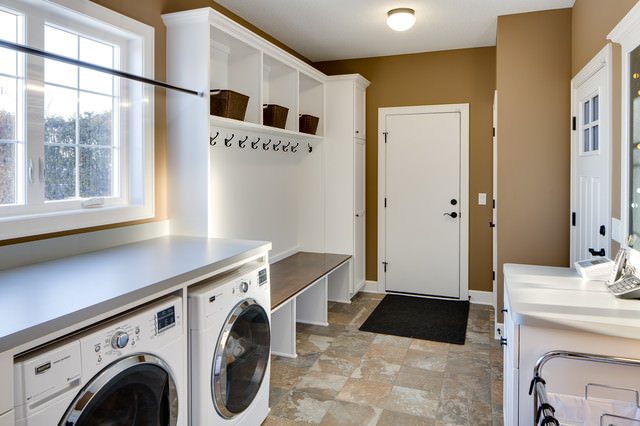 Flooring in a combination utility room should be easily washable. Tile is the obvious choice, but you'll want to make sure that the grout space is as narrow as possible to avoid the challenges of sealing the grout and keeping it clean. Another option is to go for a darker color grout for camouflage. Select large-scale tiles that will maintain a great look for years to come.
Retail stores offer a wealth of options for storage bins to organize all the hats, gloves, shoes and dog toys into neat areas. If the storage containers are not transparent, labels on the outside will help everyone to be more organized.
If dogs or cats are a big part of your family, one final option may provide a different kind of cleaning— a pet washing station. These would involve a low open shower stall base with a drain, and a handheld shower attachment for easy shampooing and rinsing. A ring bolt secured on the adjacent wall can accommodate a leash and keep pets under control during washing.