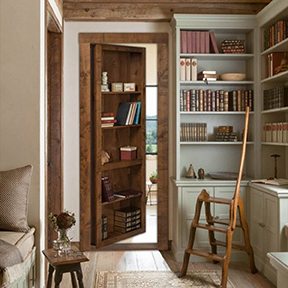 For log home owners looking to maximize space and gain storage, Murphy Doors are a great solution—plus they offer a bit of whimsy to your home!
Murphy Doors maximize the space occupied by interior doorways and incorporate shelving or other storage solutions for pantries, offices, closets and guest rooms. With the shelving facing into the main room, a Murphy Door can act like a "secret" doorway to another room.
Customized Murphy Door Options
Murphy Doors are available in a wide range of sizes, woods and finishes. With their online ordering tool, you can select jamb size, door sizes, shelves, spice racks, open direction and trim options. The doors are available in single, flush mount, surface mounted (including hinged) and French doors.
Unique Configurations
Several intriguing options are available. For closets, there are closet doors that hide or expose shelving and drawers, and shoe racks. In the kitchen, murphy doors can store wine, spices, and add space to pantries. For other rooms, there is a laundry room door option with a pull-out hamper and a pool cue storage door for your man cave!
The doors offer magnetic locking with or without keys. They may be purchased assembled or unassembled and include all the hardware necessary. Assembled doors are ready to hang like other case hung doors. These Murphy Doors are easy to add to any plan!