The kitchen is the focal point for so many homes— and it not only consumes a good portion of the building budget, but can also contribute a substantial amount to your energy bill. Even so, there are ways to keep your kitchen cost-efficient and make it "green" without breaking the bank.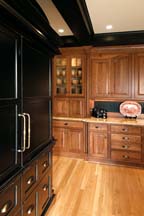 Cabinets and countertops make the first impression
There are a wide range of choices for cabinetry in all price ranges. When selecting cabinets consider products that use solid wood from nearby sources. If your budget won't handle all wood, check to see if the boxwork (sides, backs, drawers) is made from urea formaldehyde-free particle board. In many homes, the kitchen is the largest source of urea formaldehyde emissions from the cabinetry boxes. Two companies who offer green cabinetry products are Crystal Cabinetry and PureBond by Columbia Forest Products which manufactures formaldehyde-free plywood. When designing cabinets, you can reduce indoor dust buildup by extending cabinets all the way to the ceiling and expand storage for seldom used items. For cabinet doors, check out FSC-certified hardwoods which are harvested from sustainable harvested forests. (Katahdin is the only U.S. log home manufacturer presently certified to provide FSC cedar logs and other materials.) When considering stains, check to see if your contractor is using low volatile organic compound (VOC) products to eliminate a common source of toxic chemicals.
Countertops can be made from various stone, including granite, soapstone and other minerals. You'll save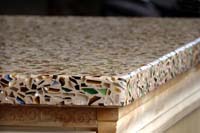 transportation costs if you source out stone from local quarries. If there are no local sources, another great option is a recycled product like EnviroGLAS manufactured terrazzo, which comes in a wide range of colors.
Appliances can cut energy costs
Appliances come in many styles, shapes and sizes. Look for Energy Star-rated appliances to cut your energy consumption in refrigerators, dishwashers, washers and dryers. The government's Energy Star website provides information on the manufacturers and models that meet their efficiency standards. Also consider how your family uses the appliances. If you've got a group that does a lot of "foraging" during the day — standing in front of the refrigerator looking for their next snack— you may want to consider a refrigerator with two non-freezer compartments, one for frequent snacks and drinks and the other side for meal components. When shopping for ranges, choosing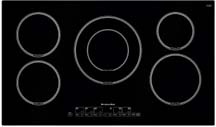 electric versus gas will depend on the chef's preferences and the availability and costs of natural gas, propane, and electricity. One new timesaving option on the scene is the electric induction cooktop which can double your energy efficiency over standard electric or gas fired stoves. Kitchen Aid offers a model that quickly takes food from a boil to a simmer on five elements.
Ventilation clears the air
As homes are increasingly constructed with airtight envelopes, ventilation plays an important role in the kitchen. Make sure that you match the capacity of your stove when selecting the exhaust fan. A professional gas range with six burners is going to need more ventilation power than an electric flat surface cooktop. Your appliance dealer can help to match the BTUs of your stove to the evacuation power of your exhaust fan. Selecting a hood fan with a rheostat for speed control allows you to regulate the amount of ventilation needed as well as control air flow.
Light sources make a difference
The kind of lighting you select can affect your energy bill, and also goes hand in hand with other choices, like selecting a lighter color scheme. The lighter surfaces are—especially work surfaces—the less overhead light you'll need. You may want to use different types of lighting for different areas of the kitchen. Use a warmer florescent bulb (3000k) for ambient lighting, and a higher 3500k value florescent over work areas to provide more realistic color and brighter whites. For areas where family members gather, such as the island or bar area, select lighting that is rheostat controlled. You'll also find that if you limit the number of high-heat halogen or xenon lighting, you'll lower your air conditioning load.
Take stock of necessities
There are so many options for kitchens it's easy to miss opportunities to save. For example, if you're an avid gardener, you may want to forego the in-sink disposal in favor of a composting system. In many areas, codes will permit a smaller septic design if the kitchen disposal is not installed. If you're just a couple and don't mind hand washing, you may want to consider eliminating the dishwasher entirely or opting for a smaller European design. If possible, bring natural lighting into the kitchen areas with skylights, a tubular light in the pantry, or lots of well-insulated windows. Planning to include small planters or window boxes of culinary herbs can also add to the ambiance of the kitchen, as well as acting as an air filter for impurities from cooking and a active oxygen source.