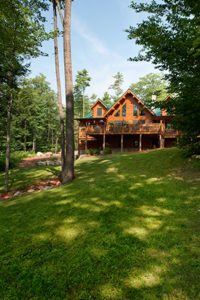 A very common comment we hear when our customers are researching log home companies is that they're not sure they can afford cedar or that "cedar costs too much." We'd like to clear the air and explain why a cedar log home from Katahdin is not more expensive that a comparably priced pine log home.
First, let's start with a small bit of economics. Cedar may be more expensive if your log home company doesn't offer it on a regular basis. Why? When sourcing cedar in the amounts needed to construct a single log home, the manufacturer can't take advantage of the bulk quantity discounts they get for the majority of their top grade .
Chocolate Chips vs. Blueberries
As an example, think about your local cookie baker. He bakes the best chocolate chip cookies around! But you'd like to have some blueberry muffins instead. You ask your cookie baker to bake two dozen blueberry muffins and he says "Sure,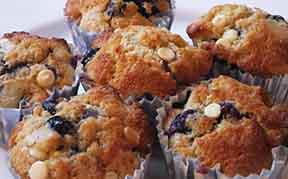 but it'll be $15 a muffin." Why? The cookie baker now has to find a source for blueberries and buy them in a small amount, which will cost more than the large amounts of chocolate chips he normally buys. He'll need to buy special muffin tins to bake them in, and maybe even go through some trial and error while he perfects his recipe. It's a big investment to switch the cookie production over to muffins!
The same can be true for log home companies. Sure, the pine log home company can make a cedar log home, but they'll have to source the cedar for just one or two homes at retail —not wholesale—prices. They'll need to have them shipped to his mill. They may need to recalibrate his sawmill to accommodate the variance in logs, and maybe even rework their standard plans to make cedar logs work. This is a lot of extra effort for a one-off custom home. As a result, most pine log home manufacturers avoid this extra expense by placing a big markup on a cedar version of their home.
But here's the important part: the higher price is not the cost of cedar logs, but the cost in changing their existing business model. They'd rather not deal with the extra effort.
Katahdin is the Cedar Expert
We happen to think that Northern White Cedar is worth the effort. That's why Katahdin has dedicated its production to cedar log manufacturer rather than a mix of other species. As we never tire of repeating, cedar offers superior insulation, stability, sustainability and resistance to rot, insects, mold and mildew when compared to other species.
But the biggest advantage cedar offers over pine is that it naturally contains less moisture. Less moisture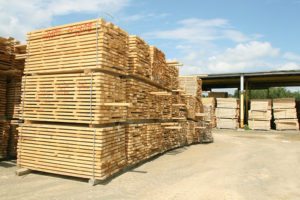 means that we can air dry cedar logs to get the moisture to within a couple of percentage points of the ideal 11-12% moisture content. Air drying saves us a lot of money in fuel that pine producers need to kiln dry their logs. When we do need to kiln dry for the final finish, we are able to do it with waste sawdust and chips that we burn in our biomass boiler to produce steam heat to power our kilns.
Better than Wholesale
Katahdin has been building log homes and working with Northern White Cedar for more than four decades. In that time, we've developed a complete supply chain for Northern White Cedar that is unmatched in North America. We identify and meet with loggers directly to negotiate for cedar harvesting during the winter, when the ground is frozen. We have strategically positioned our operations are at the feet of the boundless forests in northern Maine. Northern White Cedar grows here naturally and in wetter areas where other trees do not thrive as well. Cedar here in the North Woods grows quickly and replenishes itself, earning it the designation as one of the most sustainable tree species that is commercially harvested, qualifying it for well-known sustainability protocols.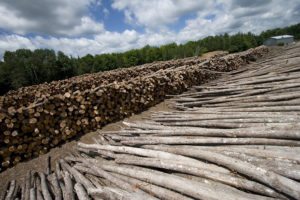 Cedar also has some geographical limitations—it grows abundantly in northern forests in Maine, where Katahdin's mills are located, but can be hard to source and expensive to ship to mills located away from these forests. If the cedar resource is located a long distance away, the cost to get the logs to a southern location can push the price up too far before any processing even starts. Because Katahdin's mills are close to the source of Northern White Cedar, we can source our logs at a lower price.
Our product experience with Northern White Cedar includes not only our beautiful cedar log homes, but an extensive and thriving cedar fence business as well as cedar garden accessories, cedar playground equipment and other cedar products. Overall, Katahdin's parent company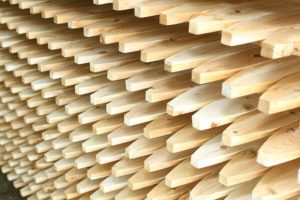 processes 15 million board feet of Northern White Cedar each year. If you laid the cedar logs end-to-end, they'd stretch from our mill in Oakfield, Me., all the way to Los Angeles.
Build a Better Log Home with Cedar
One of the biggest advantages Northern White Cedar offers Katahdin's customers is the ability to enhance cedar's natural insulating properties with added insulation applied to the interior of the homes envelope. Insulation applied to the interior of a Katahdin Cedar Log Home can make it a better home: more energy efficient and comfortable year round. Our extensive supply of cedar allows us to create a building system that includes tongue and groove paneling to face inside walls to create the rustic look of log walls inside and out, without compromising energy efficiency or the structural benefits of whole log wall construction. One note: so-called "hybrid" log homes sacrifice whole log construction for the ease of traditionally framed homes, creating the illusion of log home construction with log siding. We'd rather not sacrifice the very thing that makes log homes so special: log walls.
Still not convinced we can build you a Katahdin Cedar Log Home for the price of pine? Let us compare plans to show you how we stack up to our competition with the Katahdin Challenge.