With colder months fast approaching, many people are researching new ways to keep winter at bay, without breaking the bank. New technologies in wood fired hydronic heaters are enabling home owners to take a second look at wood as a renewable heat resource.
Much of the change in design has come as a result of new EPA standards for emissions from wood burning boilers, Historically, outdoor wood heaters have not been designed to burn efficiently and few municipalities had zoning in place to address these boilers. The old style wood boilers burned inefficiently and released significant smoke and particulate matter relatively close to the ground in neighborhoods.
New EPA Program
As a result, the Environmental Protection Agency has developed a new Outdoor Wood-fired Hydronic Heaters (OWHH)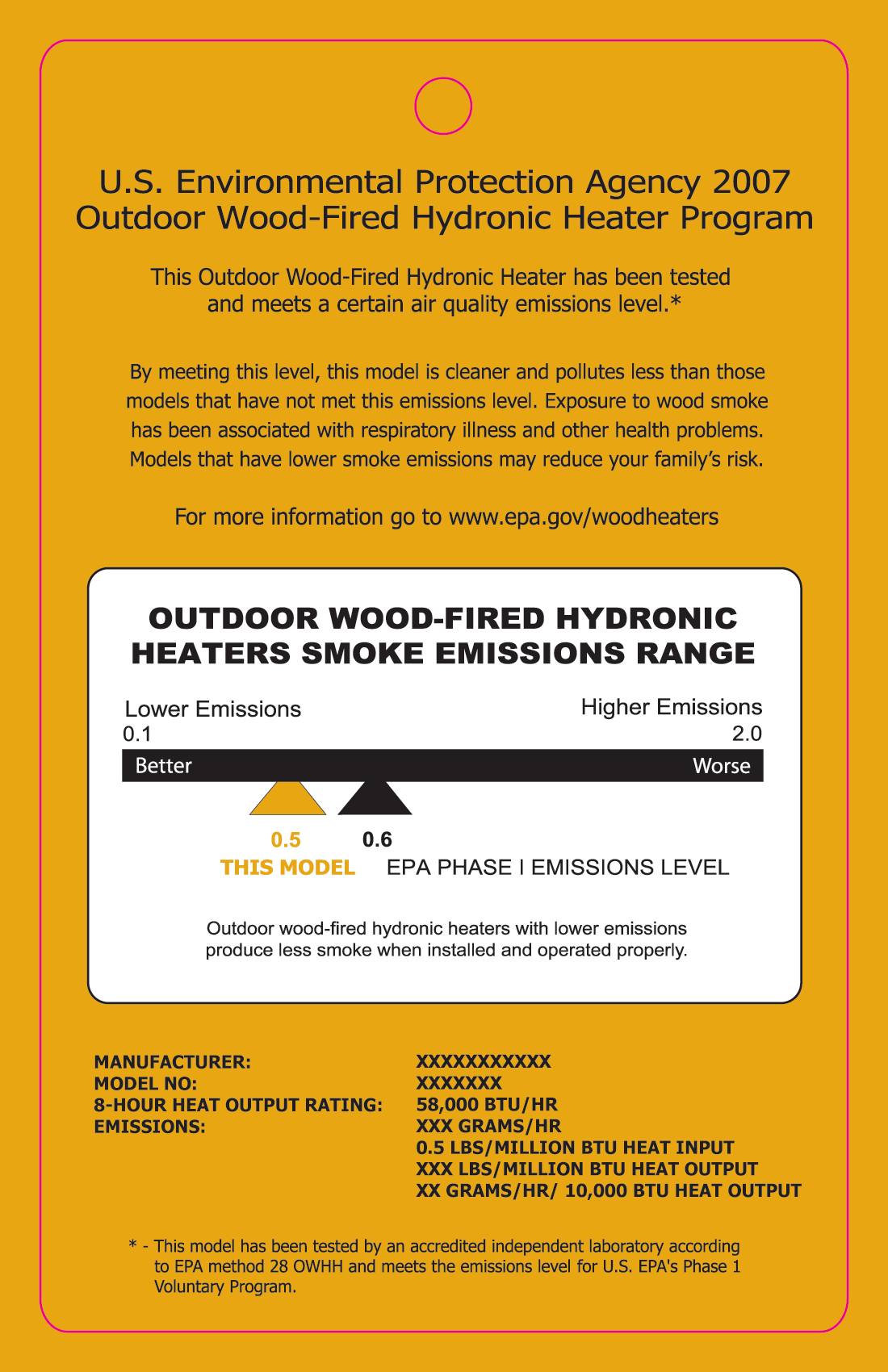 program to help consumers identify clean-burning wood fired hydronic heaters, with testing and a helpful "hang tag" that allows easy comparisons between brands. The distinctive orange hang tags inform the consumer—much like Energy Star appliance ratings— whether the unit has been tested, and what smoke emissions levels were found.  The tag shows a range of emissions from higher to lower and where the unit falls according to accredited, independent testing.  The tag also shows the number of BTUs per hour the unit will produce when installed and used properly.
As a result of the stricter emissions standards, manufacturers and have been developing new double burning or gasification technology that super-heats the interior of the wood box and burns the gases and particulates produced by the burning wood.  The result is a very clean, very efficient burning boiler.
The environmental benefits of heating your home with the renewable resource of wood also makes a good deal of sense. With increased awareness of not only the effects of global warming, but geopolitical considerations as well, reducing the dependence on foreign sources of fuel makes sense in the long run.
Trying Out Wood-fired Hydronic Heaters
Katahdin's president David Gordon has installed two different types of wood-fired hydronic heaters this summer, both meeting the new EPA standards. One is an outdoor unit to heat the administration building at the company headquarters. The building is located near the mill buildings that are currently heated by the industrial biomass boiler. The big boiler worked so well, Gordon decided to install a smaller version for the office building.  The second wood boiler Gordon had installed in his log home, which many visitors have toured as part of the Home Buyers' Seminars. Each wood-fired boiler offers different technology and gives us a chance to discuss each.
For the Katahdin's administration building, which is approximately 6,000 square feet, Gordon called on Ross Crandall, Haynesville Wood Heating, in Smyrna Mills, Maine, who sells and installs Central Boiler Outdoor Wood Furnaces. The Central Boiler unit uses a uniquely shaped RippleTop® heat transfer area made from carbon steel for better heat transfer. The rippled area provides a secondary burn area within the firebox that maximizes efficiency, while a special Heat Lock Baffle® traps heat and gases for complete combustion.  One of the benefits of this efficient combustion design is that there is little ash remaining and little creosote buildup in the unit.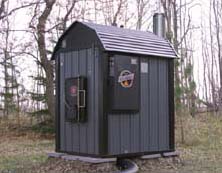 Central Boilers can be installed as far as 500 feet from the primary dwelling and still provide effective heating through baseboard or radiant heat, or through a heat exchange unit for forced air systems. Add a water-to-water heat exchanger and this unit can also provide domestic hot water.
"Central Boiler's three-stage gasification re-burn unit really provides nearly 100 percent efficiency," said Ross Crandall, who has installed a number of the Central Boiler units in Northern Maine. "We've seen virtually no ash remaining, just a fine powder and not much of it."  Once the Central Boiler is fired up, it provides 450 gallons of hot water on demand and instantly, with no heat loss, he added.
Indoor Wood-fired Boilers are Another Option
For his residence, Gordon opted for an indoor wood fired boiler manufactured by Greenwood, which also manufactures an outdoor wood-fired boiler. This unit features a wood box that like the Central Boiler, burns the secondary gases from wood combustion.  The Greenwood hydronic heater maintains a firebox temperature level of an average of 1800 to 2000 degrees Fahrenheit (see figure at right).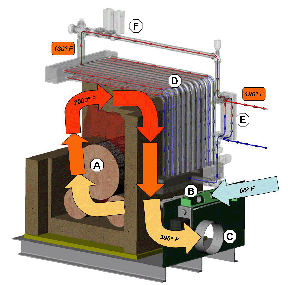 The firebox is made from cast ceramic refractory ranging from four to six inches thick, depending on the model. While providing superior insulation and combustion, the ceramic also adds a considerable weight to the unit. The smallest unit, which can output 100,000 BTU per hour and heat up to 3,500 square feet also weighs about 2400 pounds. The indoor unit can be installed through a large bulkhead door into a standard basement or added to a daylight basement with a large enough opening.  The Greenwood boiler can also be installed in a completely partitioned portion of a garage or on the first floor provided the floor can hold the extra weight. According to David Harbison, a Houlton, Maine based Greenwood dealer who installed Gordon's Greenwood, "We've pretty much figured out how to install these boiler using a pallet jack and a winch.  Of course, it's easiest to install these boilers into new construction, then build the home around it."
The Greenwood works with hot water and forced air heating systems with a heat exchanger.  Gordon has been testing his basement unit and has noticed the quick recovery— getting lots of hot water in just fifteen minutes.
Do Your Homework
What steps should consumers take when considering a wood-fired water heater? Initially, you'll want to check with your state and local ordinances about wood fired boilers, including emissions requirements, setbacks, permitting and other regulations. One resource for state and local regulations is the EPA's site. Talk to your neighbors and review any covenants or homeowners regulations that may be in effect concerning wood boilers. When broaching the subject with neighbors you'll probably want to be armed with plenty of positive information about the clean burning new OWHHs.
Make sure that you have access to a good supply of well-seasoned hardwood for burning. You'll get the highest efficiency and cleanest burn with the right type of wood. Many areas are experiencing increased demand for seasoned firewood, so you may only be able to acquire hardwood that is green and one season away from being burnable.
Get an evaluation of your home's heating system and how the new wood boiler would interface with your present system. You may need to supplement your present set-up with a heat exchanger or heat pump to convert the hot water to forced air. You'll need to compare your usage of heating oil, propane, or natural gas to the costs of the new boiler.  You may find that the savings in fuel oil for a couple of seasons may make a wood-fired hydronic heater a viable option.