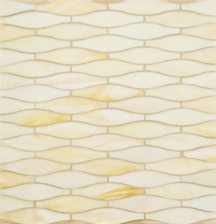 If you're looking for a sophisticated new look for your kitchen, designers have been creating kitchen designs that draw their good looks from nature.
Start Small
Since the backsplash and under cabinet areas are generally small, a little splurge for art glass can make a unique impact in the kitchen. One company, Artistic Tile offers some great fashion designs using different shapes drawn from nature. Their Treble tiles (right) are curvy like ripples on a lake and provide a sense of movement. Treble tiles come in a selection of colors that reflect sand, cream, or sage notes.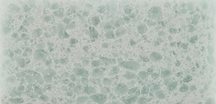 Another designer, Ann Sacks, offers glass tiles with traditional or recycled options. The company produces attention-getting mosaic tiles with floral and geometric designs. Among the tiles fabricated from recycled materials, pebbly Carilo (left) in Crush provides a seaglass tint to the tiles. For a bolder look, check out the textured Pinstripe tiles in Jambalaya (right), a warm paprika tone that appeals to the senses.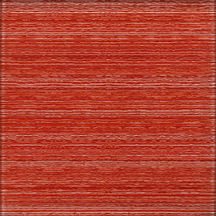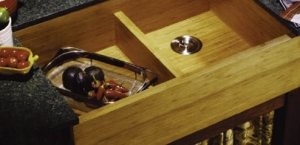 Sinks with Drama
The backsplash provides a backdrop for the kitchen sink, which may also reflect these natural tonal trends. For a truly natural effect in the kitchen you'll want to take a look at Lenova's line of kitchen sinks. The company uses both traditional and non-traditional materials for its line of fixtures. The most striking option is their bamboo apron front sink (left), available in a double or single bowl style. These sinks are durable but susceptible to harm from harsh cleaning chemicals, or abrasives like steel wool.
Another Apron front sink in natural tones is Kohler's Whitehaven Apron Front Kitchen Sink (below). The apron front style is a retro trend that emphasizes the sink's good looks from the front as well as from above, the way sinks are usually viewed. With a simpler style like this, it can pay to be bold with the backsplash tile for a visually interesting contrast.