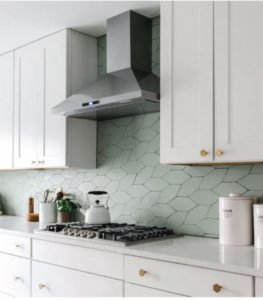 With a variety of colors, shapes, finishes and treatments, tiles are the go-to accent for kitchens, baths and other areas in Katahdin Cedar Log Homes. We thought we'd share some of the latest trends.
Picket Tile
Picket tile from Fireclay Tile is a great variation on the popular subway tile shape. It's a rectangle that is finished in points like a picket fence on both ends. Things get interesting when it's laid in a diagonal interwoven pattern. The result is a gentle braided look with visual motion that can contrast with the strong horizontals in log homes. It's a great way to finish a backsplash and vertical space behind the range hood in the kitchen.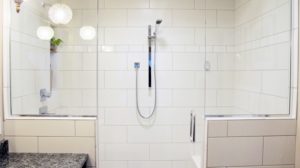 Large Format Subway Tiles
These larger rectangles can provide different looks and effects, depending on how they're laid. Vertical floor-to-ceiling in a shower area gives a feeling of openness and height. For floors in laundry rooms or mudrooms, these large rectangle tiles offer easy cleanup and great looks.
Tiled Niches
Small niches can add visual interest and functionality to a larger tiled area. In showers or bath areas, they can offer a decorative shelf for beauty products, flowers or candles. Many designers select a different patterned or shaped tile for the back wall of the niche with contrasting tones to the main tile area. In kitchens, a tile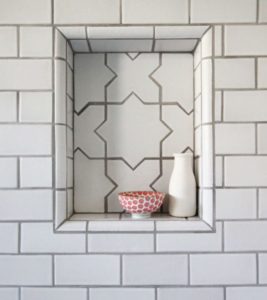 niche can accommodate a pot filler over the range or kitchen tools or knives.
Color Trends
Colors trend in the new neutrals of deep brown or cream, as well as soft pastels like sea green or sky blue. If shaped tiles are selected they are often executed in a single, neutral color with the shapes emphasized with a contrasting color tinted grout.
Adding tile to your home design can reflect your unique personality and style, while also adding durable and functional surfaces.