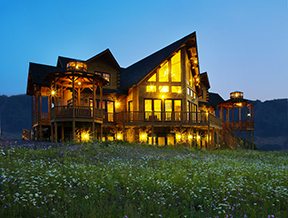 We like this New Year's resolution— make your Katahdin Cedar Log Home a reality in 2018! Log home shows and our Logapalooza events are a great place to start. We've got a great lineup of informative events this winter and spring and we hope to see you there! Katahdin's team of dealers and representatives will be busy traveling and setting up at three shows in the first weeks of the new year, so mark your calendars now.
We're excited to get out and meet folks who love log homes! Attending a log home show is often a first stop on your log home journey. A visit to our beautiful Katahdin booth gives you a chance to learn more about what makes our approach unique, including our commitment to energy efficiency and complete custom designed log home packages.
Take a moment to check out these log home shows and stay tuned for more updates on our Events page.
Jan 5-7                        Allentown Pa., Log & Timber Home Show
Jan 19-21                    Nashville, Tenn., Log & Timber Home Show
Jan 26-28                    Columbus, Oh., Log & Timber Home Show
Feb 9-11                      Pittsburgh Pa., Log & Timber Home Show
Feb 23-25                    Kansas City, Mo., Log & Timber Home Show
Mar 3-4                       Atlanta Ga., Log & Timber Home Show
Mar 9-11                     Indianapolis, Ind., Log & Timber Home Show
Apr 6-7                       Gatlinburg Tenn., Log & Timber Home Show
Apr 20-22                   Harrisburg, Pa., Log & Timber Home Show
May 4-6                      Lake George, N.Y., Log & Timber Home Show