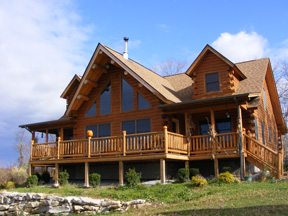 Experience the Log Home Lifestyle — Newton, NJ Log Home Seminar
Saturday, November 13, 2010
Here is a preview of the beautiful Katahdin Cedar Log Home you'll visit as part of our informative Log Home Seminar in Newton, NJ, on Saturday, November 13.
The day-long Log Home Seminar at the Holiday Inn Express Newton Sparta will cover a wide range of information about designing your log home, selecting sites, financing and other questions. You won't want to miss important information about Katahdin's Energy Envelope System, which meets or exceeds the new energy codes to be enacted in New Jersey in March 2011.
Space is limited and admission is free to the seminar, so to reserve your place contact Shannon or call 800-845-4533. Registration begins at 8:30 am. The seminar and home tour will run from 9:00 am to 2:00 pm, with lunch and individual meetings immediately following.