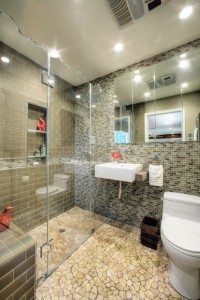 Universal design is a buzzword in home construction that translates into homes that can accommodate an aging homeowner and enable them to stay in their homes longer. One of the spotlighted areas in a universal design home is the bathroom. No-threshold showers can make access easy and showcase a clean and beautiful design.
When speaking of no-threshold design, the shower area is not delineated by the 1-to-3-inch lip that may hold the shower doors or elevate the shower floor for drainage purposes. New construction has the benefit of being able to design the shower area to be a seamless tile floor area, using incremental floor grading to drain the shower area. One element that really works well with no-threshold designs are the beautiful tempered glass panels used in shower enclosures. They can be etched, or scribed with a free-form edge on the top for a unique and special look.
Another interesting option is to enclose the entire shower and tub area into one glassed-in room. This can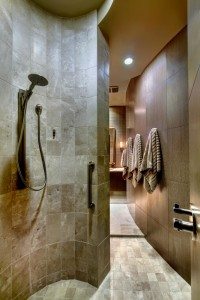 minimize steam and moisture in the rest of bathroom area. Another design idea that uses more space is a curved wall and corridor to provide both privacy and easy one-level access to the shower area.
Other nice additions for universal design in a no-threshold shower are benches within the shower area, either as permanent construction or a foldaway enhanced by water resistant materials like teak or mahogany.
No matter how you make this design your own, no-threshold showers are an easy and commonsense solution for making your home more accessible.