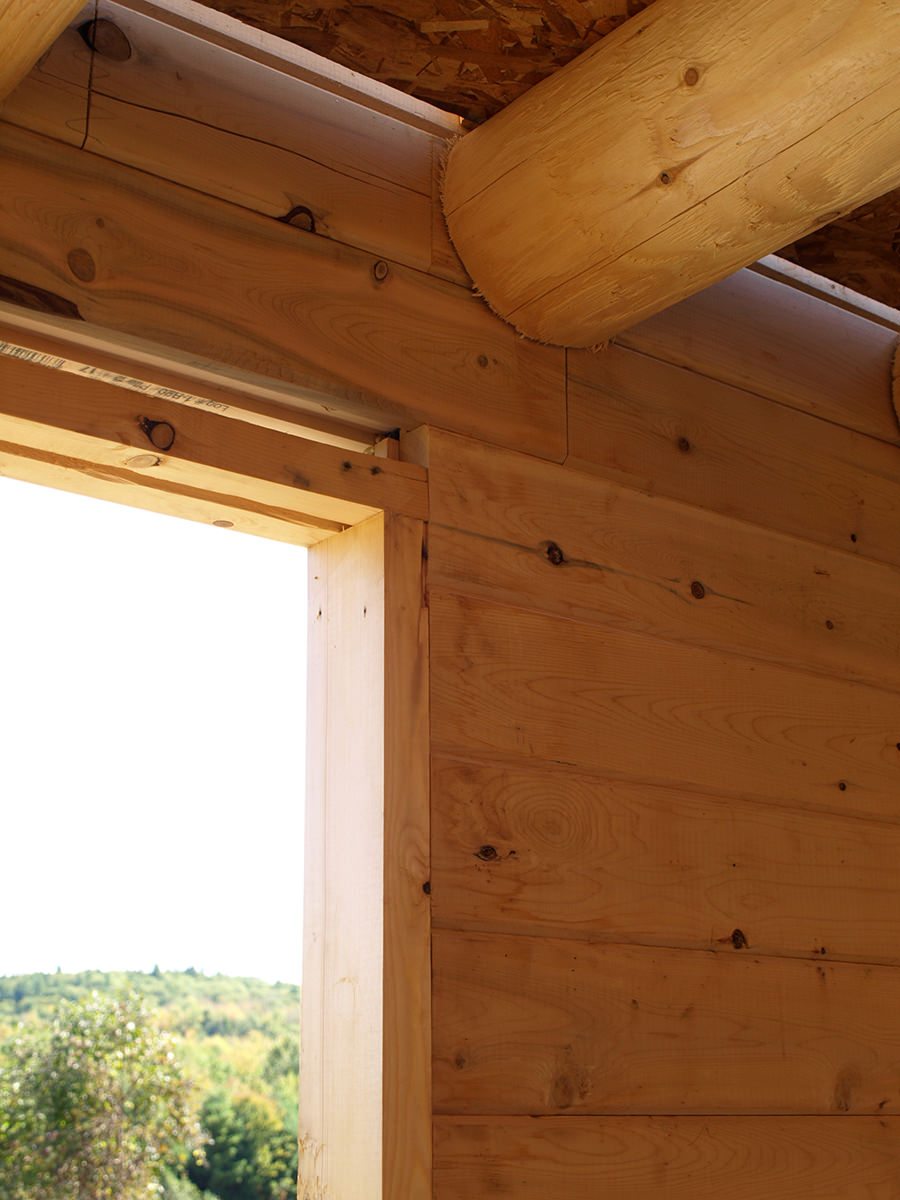 One of the aspects of Katahdin's log home packages is the completeness of the materials included in the package. One essential "included" element are pre-cut window and door bucks. These bucks ensure the proper assembly of exterior log walls. Including pre-cut bucks based on the specifics of your design is an important time-saver in on-site labor.
Windows and doors have the highest potential for challenges, especially when it comes to keeping these openings airtight and well fitted. Bucks are the interior frame into which the window or door assembly is placed and affixed. It is the connecting structure that provides stability and squared environment for the rigid window and door frames (see photo at right and below with bucks highlighted in green).
Katahdin provides pre-cut bucks specified for you particular log home. Before assembling, the door and window bucks should be re-measured to ensure that they are cut to the size specified in the plans. If they are not, the builder should contact the technical assistance department at the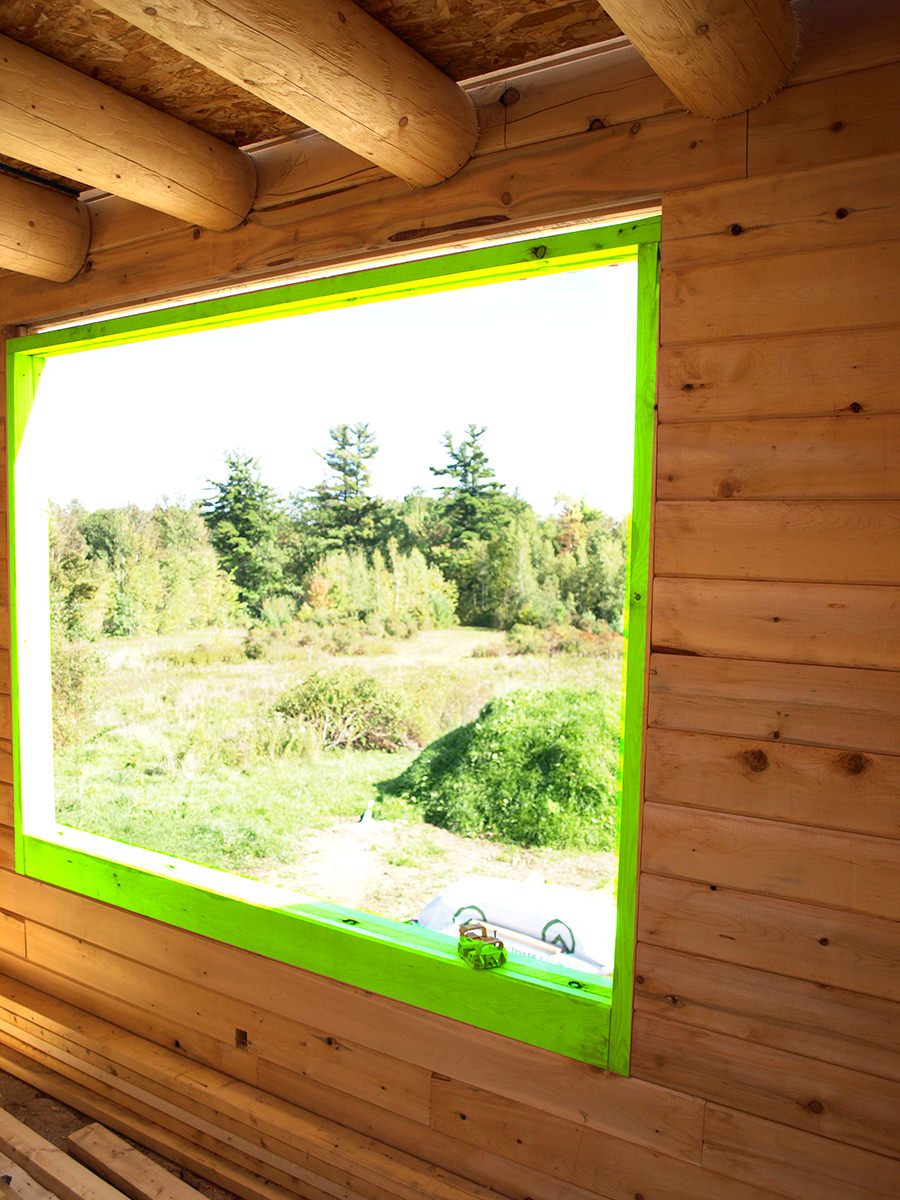 mill. If the window openings are atypical rounded or angled openings, your contractor will have to measure and cut the bucks for the angled or curved areas to fit from provided buck stock.
The bucks are assembled early in the construction process, using wood screws or nails long enough to penetrate 1.5 inches into the buck. The splined grooves of the buck pieces are always assembled to face out. The assembled door bucks are braced diagonally to keep the bucks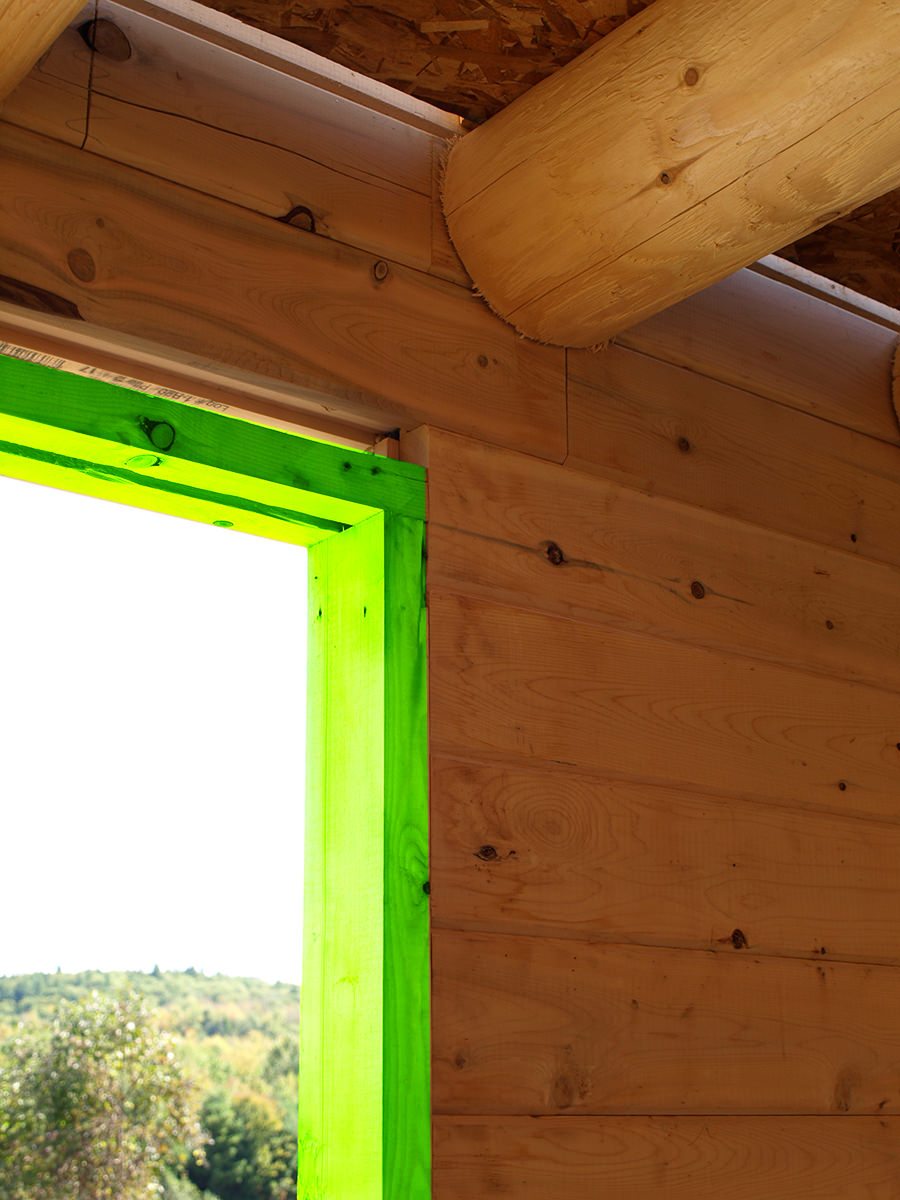 square and to avoid any twisting. The assembled bucks are then located on the foundation using the Window and Door Rough Opening chart. The bucks are attached to the floor and then braced diagonally to keep the bucks plumb and true. Once the door bucks are in place, the lower courses of logs can be laid.
Once the logs reach the lower level of window openings, the assembled window bucks are then installed in a similar procedure to the door bucks. Window buck sills will vary in thickness as window bucks are made to fit an even number of log rows.
Katahdin is also required to leave a 1.5-inch "settlement gap" between the buck and the bottom of the lintel log (see below). This gap needs to be filled after window and door installation with insulation or foam. This gap is required by code on all log homes in general, but because Northern White Cedar logs are shipped with a naturally lower moisture content than pine, very little, if any, settling occurs.