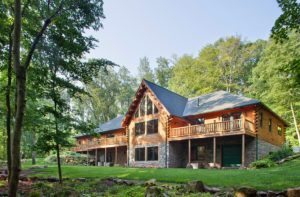 We're very excited to announce the next Logapalooza will be held on Saturday, October 20. This comprehensive event will showcase several stunning Katahdin Cedar Log Homes in the Deep Creek, Md., resort area. We'll return to the great meeting spaces at nearby Garrett College for the seminar portion of Logapalooza, with a cocktail reception on Friday October 19 at one log home. You'll have plenty of opportunities to meet and greet the experienced Katahdin crew we'll have on hand. We've found that folks travel quite a distance to participate, so you'll want to reserve your spot today. Click here for more information.
October in Michigan!
The Great Lakes Bay region in Michigan is a new log home show location for us and there's no better place to build a Katahdin Cedar Log Home! Log home shows like the one slated for October 12-14 in Birch Run, Mich., are a great way to become better informed about Katahdin's dedication to quality, efficiency and great design—there's always something new to learn! A visit to our beautiful Katahdin booth gives you a chance to see more about what makes our approach unique, including our commitment to energy efficiency and complete custom-designed log home packages.
Take a moment to check out these log home shows, open houses and stay tuned for more updates on our Events page.
Oct 12-14            Great Lakes Bay, Mich., Log & Timber Home Show & University
Oct 20                 Logapalooza at Deep Creek Lake, Md.
Oct 21                New Log Home Open House, Charlemont, Mass.

Oct 26-28            Marlborough, Mass., Log & Timber Home Show & University
Nov 2-4                Asheville, N.C., Log & Timber Home Show & University
Nov 9-11              Chantilly, Va., Log & Timber Home Show & University