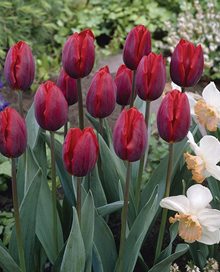 September and October is the time when bulb companies begin shipping for 2012 planting and flowers next spring. One company, Van Bourgondien's Dutch Bulbs offers some great information to guide your bulb selection for next spring. First you'll need to determine which hardiness zone you live in. This site offers a tool that advises your zone based on your zip code. The page offers some common sense, as well, indicating that some zone gradings indicate that bulbs will winter well in the ground, while others may need to be taken out for extra cold conditions and replanted when temperatures rise above a certain threshold.
Breck's Bulbs helpfully organizes their website by shipping dates, fall or spring, and offers collections of double daffodils, hyacinths and other bulbs that can get a garden going quickly.
Tulips, daffodils, crocus, and other hardy bulbs are available in single variety packs or in collections that offer a selection of different colors or types. For maximum effect, you may want to opt for banks of a single color or highlight pockets of 3-4 individual plants for a burst of color among evergreen foliage.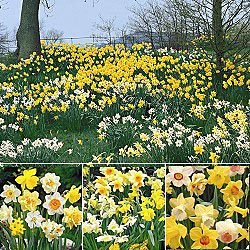 One way to get flowers going at your home site before your log home is finished is to plant naturalized daffodils on the edges of forest areas, so long as the areas nearby are completely graded, and the ground won't need to be disturbed. Daffodils, when left undisturbed, will continue to multiply and improve as years pass. Most bulb companies offer naturalizing bulb packages of basic yellow daffodils at a good bulk rate.
Once your bulbs arrive you can plant them according to the directions for your zone. Until the proper planting time, keep the bulbs in a cool, dry place. Several methods work well for planting bulbs. Some prefer to shovel or hoe out a small trench of the appropriate depth, then place the bulbs and cover. Others use a hand tool that is inserted into the sod or soil and lifts out a plug of dirt, forming a bulb-sized hole for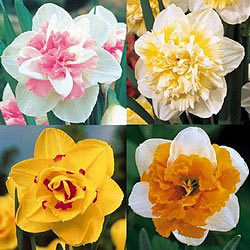 planting. Some gardeners with a large number of bulbs to plant for naturalizing will use a cordless power drill with an auger bit to rapidly plant bulbs in the ground.
Whatever you decide to plant, adding bulbs to the garden is a pleasant way to spend a fall afternoon, with plentiful rewards in the spring.