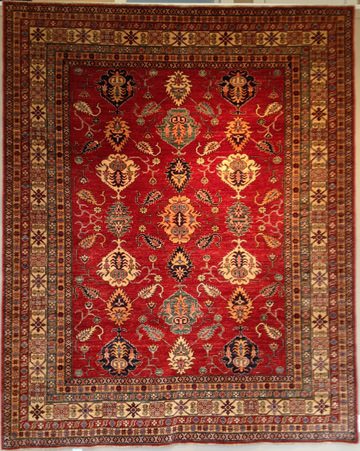 Oriental carpets are a natural addition to log home décor, with their bold colors, array of designs and durable good looks. We spoke with Randall Mougalian, owner of Mougalian Rugs, in Scarborough, Maine, to get a better idea about what to look for in an investment carpet. Here are some suggestions for where to start when considering an investment in an oriental carpet:
Color and Design
Mougalian said "It's a lot more than red and blue!" His showroom sells carpets from many corners of the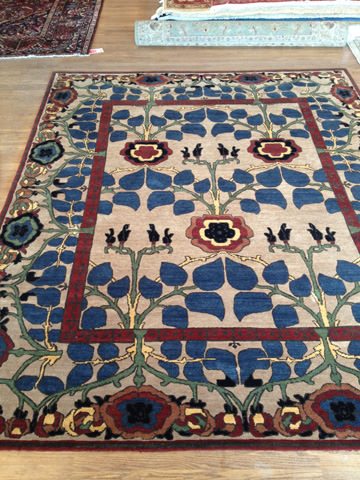 world, both antique and modern. Carpets are available in contemporary designs, both abstract and shapes and colors drawn from nature.
The traditional look (left) fits well within a more formal setting, though a traditional design can help to dress up a casual sofa and chairs, or link antique furniture to the cleaner lines of contemporary pieces.
Arts and Crafts style rugs (right) feature bright and bold colors and stylized floral and natural designs. They take their looks from the arts and crafts period in design from 1860 to about 1910, but have remained popular as a graceful style of decorating. These rugs are made by rug weavers, who draw their designs from nature: flowers, leaves, water. They tend to look a little more rustic and feature natural dyes and thick, fine quality wool.
Carpets from Nepal and southwest Persia (Gabeh and Kashkuli rugs) have a more casual feel and display bright blocks of color and primitive but contemporary looking designs.
Provenance
Many quality carpets originate from areas in the Middle East both friend and foe to the west. Mougalian explains that scarcity and availability can affect price for certain types of rugs, especially if they are not available for import. Persian rugs are less available because of embargo restrictions on goods from Iran and those already available in this country are more costly than rugs from other areas. As far as investment-grade carpets, there are very few modern rugs that would increase in value, but a quality rug would hold its value quite well, if cared for properly.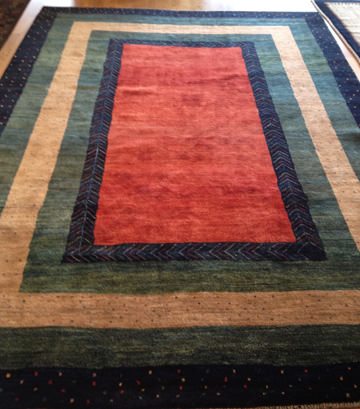 Care and Cleaning
For most households, durability and ease of cleaning become a factor. "The majority of homes have either dogs or children, so we try to guide people to carpets that will take a fair amount of hard use and still look great," Mougalian said. The best type of material for active households is a high quality wool. Many of the wool designs have bright nature-based colors and rugged pile that will last a long time with regular professional cleanings and good care. Mougalian also carries silk carpets, that feature fine lines, high stitch-per-inch counts and a short nap, but doesn't recommend silk carpets for active households.