Immerse yourself in the rustic charm of your log home while savoring mouthwatering, freshly baked pizzas with the addition of an outdoor pizza oven. Log homeowners seeking to elevate their outdoor cooking game will find the perfect harmony of functionality and style in these top-notch outdoor pizza oven brands. In this blog post, we will explore exceptional pizza ovens, ensuring a seamless blend of aesthetics, performance, and affordability for log home enthusiasts.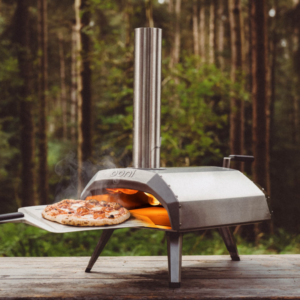 Ooni Pizza Ovens (www.ooni.com): Ooni offers a range of portable, wood-fired pizza ovens that flawlessly
complement log home spaces. Crafted from durable stainless steel, these compact ovens rapidly heat up to 932°F (500°C). The Ooni lineup features models like the Ooni Koda (starting at $349), Ooni Karu (starting at $329), and Ooni Pro (starting at $599), providing log homeowners with versatile options that deliver exceptional cooking capabilities.
Forno Venetzia Pizza Ovens (www.fornovenetzia.com): Forno Venetzia specializes in creating traditional, Italian-style outdoor pizza ovens that seamlessly blend with the aesthetic of log homes. Handcrafted using cast stone and refractory materials, these ovens offer remarkable heat retention and consistent cooking results. The Pronto (starting at $1,199), Bellagio (starting at $2,399), and Torino (starting at $3,799) series cater to different sizes and preferences, guaranteeing an authentic wood-fired cooking experience for log homeowners.
Fontana Forni Pizza Ovens (www.fontanaforniusa.com): Fontana Forni seamlessly combines traditional craftsmanship with modern technology, making their pizza ovens an excellent choice. Crafted in Italy, these ovens are renowned for their exceptional performance and even heat distribution. The Margherita (starting at $1,699), Marinara (starting at $2,299), and Mangiafuoco (starting at $2,999) series offer log homeowners efficiency and visual appeal, elevating the ambiance of log home settings.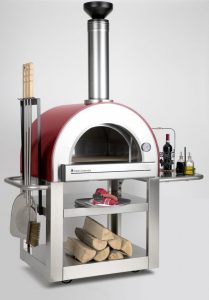 Alfa Pizza Ovens (www.alfaforni.com): Alfa brings cutting-edge design and superior functionality to their outdoor pizza ovens, making them a perfect fit for log homes. Designed and manufactured in Italy, Alfa ovens embody the passion for wood-fired cooking. The Alfa ONE (starting at $1,399) and Alfa Stone (starting at $2,599) series offer log homeowners versatility, easy installation, and efficient insulation, ensuring rapid heating times and excellent heat retention.
Solo Stove Pi (www.solostove.com): The Solo Stove Pi is an innovative addition to the outdoor pizza oven lineup. This unique oven features a distinct airflow design, delivering intense flames for faster heating times and even cooking. Crafted with durable stainless steel, the Solo Stove Pi exhibits a compact and portable design that suits log homes perfectly. With a starting price of $369, this pizza oven offers exceptional value for log homeowners seeking an efficient and c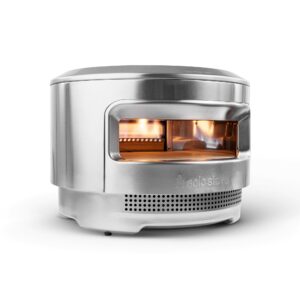 onvenient outdoor cooking solution.
Enhance your log home's outdoor living experience with an outdoor pizza oven that perfectly complements the rustic charm of your property. The Ooni, Forno Venetzia, Fontana Forni, Alfa, and Solo Stove brands offer exceptional pizza ovens. Whether you prioritize portability, traditional craftsmanship, innovative design, or affordability, these brands provide reliable choices that will amplify your outdoor cooking endeavors and enhance the inviting ambiance of your log home.