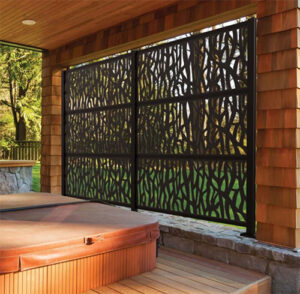 Designing private space outside your Katahdin Cedar Log Home is easy with these decorative screen panels from Barrette Outdoor Living. The judges at the 2022 International Builders Show awarded these durable and stylish panels as their Best Outdoor Product of the year.
Horizontal or Vertical?
The panels come in two sizes 2 ft by 4 ft and 3 ft by 6 ft to accommodate a variety of openings. The panels can be installed three high horizontally using the specially designed aluminum frames. Or flip the panels for a vertical screen on your front porch.
What Style Suits Your Décor?
To complement a natural  or more rustic theme in you Katahdin Cedar Log Home consider the Sanibel leaf shapes, Sprig's interwoven branches or the smooth round motif of River Rock. If symmetry and geometric shapes are your preference, Fretwork's Moorish mosaic design, Slate more random paving stones pattern or Optic with a slim and stacked feel. For traditionalists select privacy Latticework in ten different decorator colors. For more complete visual privacy, the  Boardwalk panel still allows filtered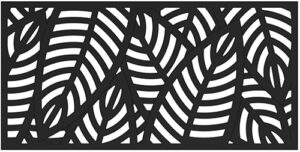 light into the area.
Make the Connection
Once you've selected the pattern, configure your panels to suit your outdoor space. Construct a large privacy panel wall, a smaller screen or any sized area in between. Mix panel patterns for a sophisticated approach to privacy! No matter how you decide to arrange them, these privacy panels are an easy improvement to any outdoor space.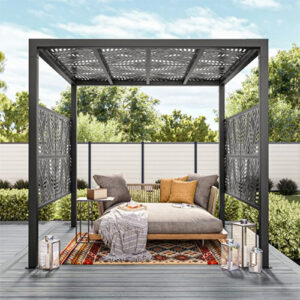 Study & Made to Last
Barrette Outdoor's privacy screens are made from PVC material and are UV resistant. Their fabrication resists warping and twisting. The aluminum frames are painted to match the screen panel colors. Many of the panes in limited color selections can be painted.
Freestanding Pergola
Create a cozy conversation area in your yard with the Barrette Pergola kit. The 8 ft by 8 ft pergola consists of an aluminum frame. Homeowners can easily assemble the pergola frame and add 2 ft by 4 ft panels to side walls and roof. The pergola provides a gently shaded area that can be used as an outdoor movie screening area or comfy retreat to enhance outdoor living in your Katahdin Cedar Log Home.