During the dog days of summer we decided to look at ways to beat the heat with umbrellas. Beyond the standard canvas beach-style umbrellas, companies have developed several unique options to provide relief from the sun and decorative touches.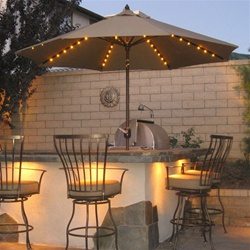 One great source for patio umbrellas is PatioUmbrellaUSA.com, which offers a wide selection of styles and shade creation in the form of umbrellas, shade sails and other options. The lighted patio umbrella provides energy-efficient LED lighting along the ribs of the umbrella. This umbrella extends the use of your patio umbrella into the evening and has a wind vent to keep it steady in a breeze. The umbrella is available in three hardware finishes and 65 fabric options for quick delivery.



For those of you with an eye toward rainwater collection the Bahama Largo Umbrella offers a dramatic and useful way to combine shade and environmental functionality. The trumpet flower shape is eye catching and has self-contained lighting for extended evening use. Its funnel-like configuration provides a means to collect rainwater and drain it to a holding tank or storage unit like the Rainwater Pillow for use on gardens and lawns. The umbrella is equipped with a two-gear manual drive for easy opening and closing.