Grilling has become a national obsession, so why not explore a well-equipped outdoor kitchen for your log home? With new modular units, a wide range of grills and relatively simple installations, the outdoor kitchen is within just about everyone's reach.
The grill is hot
Naturally the grill is the centerpiece of any outdoor kitchen, so you'll want to invest a good portion of your budget into the grill. Your options can cover a price range from about $300 to as much as $5000, but if you shop around, you'll be able to find one that meets your essential needs, without breaking the bank. Some tips to consider when selecting your grill:
Fuel source. Though purists prefer charcoal, a gas or electric grill is the way to go for superior heat control. If gas is your preference, propane tanks will eliminate the need to plumb a gas line extension to the grill area.
Grill surface. Make sure the grill surface is either stainless steel or enameled, for easier clean up. If you plan on preparing several dishes at once, you'll want to have at least three fire modules to adjust to different temperatures for different foods.
Construction. Give the assembled grill a good shake. If it rattles or shimmies too much, it may not be constructed to last. Take a look at the exterior surfaces: stainless is very weather resistant and cleans up easily.
Island layout and location
The same way party guests seem to gravitate toward the kitchen inside, they'll congregate around your outdoor kitchen space. Locate your kitchen island to allow for guests to gather around for a convivial atmosphere and away from any structures to avoid fire hazard. If you're considering an awning or roof covering for the island keep in mind that smoke from the grill will darken surfaces immediately above the grill. Avoid light colors or surfaces with a rough surface that may inhibit cleanup.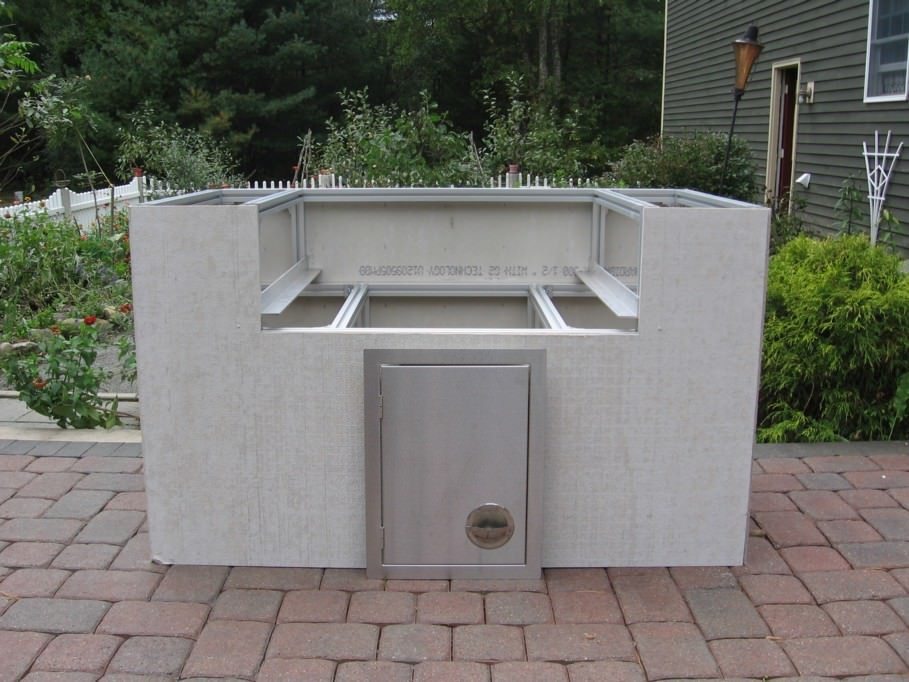 Approach the layout of the island like that of a regular interior kitchen. You'll want to have as much countertop space as possible for preparation and utensils, preferably between the grill and the sink area. If your budget is limited now, consider stainless rolling carts that can do double duty as prep areas and storage.
Modules can make construction a breeze
Many companies have answered the do-it-yourselfer's demand for modular designs

for outdoor kitchens. If you're handy with home projects, you may want to start with Fresco Frames door, bar and counter unit modules to assemble into any configuration. The framessteel frame modules, constructed to hold standard grill sizes, with are finished with cement board and a facing material such as tile or stucco. A more complete module system is offered by Simply Outdoorz, which offers modules with completed walls and surfaces for easy installation and customization..
Many websites also offer tips and suggestions for designing and building your outdoor kitchen, so make sure you check out hgtv.com and other home improvement sites for ideas to suit your needs and lifestyle.