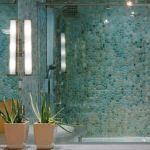 Log home owners enjoy bringing elements of the outdoors into their homes: natural stonework, hardwood floors and beautiful windows that open out onto nature. We were delighted to spot these natural pebble tiles that provide a smooth, yet textured finish to many areas where you would normally apply ceramic tile. They can add a special dimension to small areas, like guest half baths or outdoor showers, or provide dramatic appeal in walk-in shower areas, vanity counter tops or unusual places such as a floor in a walk-in wine cellar. We found two sites, each using natural stones from Indonesia for their tiles.
Colors and finishes offer many options
These pebble tiles are fashioned from natural tiles, some just as they are found, but others are finished with a smooth glaze or polished for a more contemporary look. The variety of colors range from soft cream and sage to deep gray, blue and near black. One distributor, StrataStones offers a look at many different applications and treatments in their pebble tile gallery, including videos from home improvement shows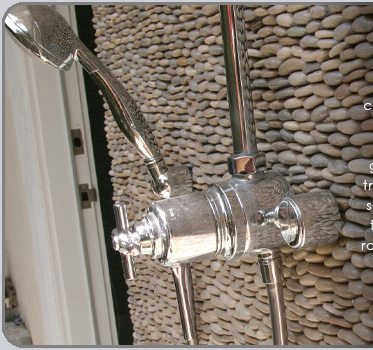 where the pebble tiles have been featured.
Another distributor, Natural Stone Outlet , offers a "standing pebble" line that uses a larger profile pebble that provides more surface exposure to the pebbles which are more rounded than other pebbles used in tiles. The effect on vertical surfaces provides a depth and drama that will make for a standout room design. Because they are so visually interesting, it's easy to get a great effect with a minimal amount of tiles applied to a single wall or as an accent.