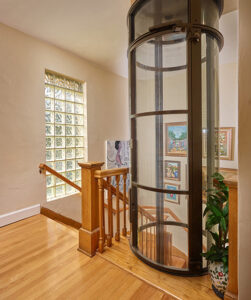 Many folks plan design their Katahdin Cedar Log Home to allow aging in place, with wider halls, first floor master suites and lever style door handles. For those who want to enjoy multiple floors of log home lifestyle, a nifty option is a home elevator. Now a pneumatic circular elevator can allow access to all floors without taking up much space. Florida-based Pneumatic Vacuum Elevators (PVE) offers three options in their residential elevators to meet most needs.
How does a PVE Work?
Each elevator enclosure is operated by a mechanical controller to pump the air inside the elevator enclosure to move the passengers up and down the elevator. The mechanical controllers can be mounted on top of the unit or installed remotely with two 4" pipes or flexible hoses up to 30 feet away from the elevator. Acoustic installations are also available to dampen the mechanical operation sounds. These elevators operate on a single push button activation for seamless travel between floors.
Three Sizes for to Fit Individual Needs
PVE pneumatic residential elevators are available in three sizes:
Single passenger: 30 inches in diameter, 350 pounds capacity
Two passengers: 37 inches in diameter, 450 pounds capacity
Three passengers: 52-11/16 inches in diameter, 525 pounds capacity, wheelchair accessible
Panoramic View
PVE's elevators feature clear polycarbonate enclosures capped with steel to ensure an airtight seal and allow the air pneumatic design to lift and lower passengers. Because it has 360-degree visibility, there's no claustrophobia concerns. And the elevator's clear design also blends into most living spaces seamlessly.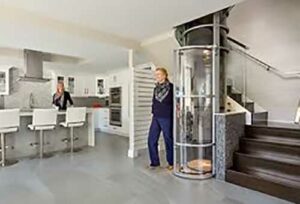 Space-saving Flexibility
Unlike other mechanical home elevators, there are no hydraulics, oils of fluids to contend with. Maintenance is simple, just a replacement air seal gasket needed once every 4-5 years. PVE elevators can be installed on existing floors and may also be disassembled and moved to a different location if desired. PVE pneumatic elevators are easy to install and only require a 220 -volt power supply and a nearby telephone jack.
Absolute Safety
Pneumatic Vacuum Elevators are tested and certified by the American Society of Mechanical Engineers and have been safely installed in thousands of homes over the past decade. Each unit is assembled and tested in the US manufacturing facility before shipping.