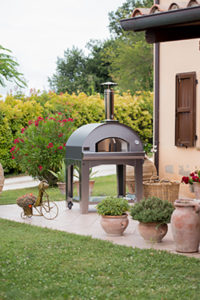 If your friends and families love pizza, then adding a portable outdoor pizza oven to your outdoor kitchen can be a crowd pleaser! The pizza ovens from Fontana Forni are made in the pizza motherland of Italy by true craftsmen. We spoke to Kirk Laing, founder of Fontana Forni, for the backstory of his start in the pizza oven business.
A Love of Italy
Laing and his Florence-born wife lived in Italy for eight years before returning to the U.S. to start a terra cotta pottery import business. "The first thing we did when we returned to the states was to build a brick pizza oven," Laing said. "Our college-aged kids wanted a portable pizza oven to bring to events, so we found Fontana Forni in Italy." Laing visited the company and was impressed with their 40-year tradition of design and craftsmanship. They started adding pizza ovens to fill out the shipping containers and discovered a good market for Italian pizza ovens. Eventually the pizza ovens became their sole focus.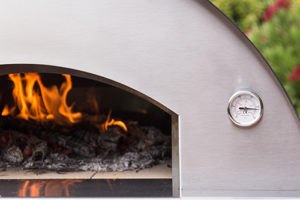 Wood or Gas
Fontana Forni Pizza Ovens are available as wood fired, natural gas or propane. While Laing sells lots more wood fired ovens, some areas, including California, no longer allow outdoor wood burning. The gas operated pizza ovens are plumbed for propane, with a natural gas conversion kit available.
Three Popular Outdoor Pizza Oven Sizes
Fontana Forni's outdoor pizza ovens are available in countertop or portable models in three configurations:
The Margherita 24 x 24-inch pizza stone
The Mangiafuoco 24 x 32-inch pizza stone
The Marinara 32 x 32 -inch pizza stone
The pizza ovens are designed to heat to a pizza-perfect 750°F in just 30 minutes, using 5 times less wood to heat with compared to traditional ceramic pizza ovens. Each stove is available in three colors: stainless steel, black and red. The Marinara model is their best-selling option and can accommodate three 12-inch pizzas or four 10-inch pizzas. Each stove comes with a 2-year overall manufacturer's warranty and a 4-year warranty on the pizza dome.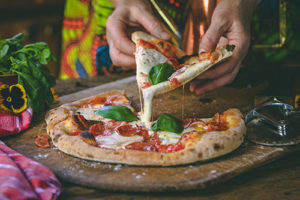 Not Just for Pizza!
Laing noted that the pizza ovens are great for cooking everything else for a meal, including: bread, roasts, desserts and steaks. The domed interior of each pizza oven is designed for optimal refractive heating. "I really love the sear I get when cooking steaks in the pizza oven," Laing said. "My wife and daughter cook on the pizza oven every day!" In fact, they've collaborated on the company's Instagram to provide great recipes and ideas for cooking on the pizza stones.
Hassle Free Set-up
The ovens come completely assembled, with the stainless steel cart requiring some basic assembly. The features include a fire chamber thermometer that displays °F and °C, and a wood holder, chimney and spark arrestor all constructed of stainless steel for long-lasting good looks. Plus, shipping is free in the US when ordered directly from the company.
Looking for More?
Fontana Forni also offers their multi-purpose Pizza e Cucina Double, which has a pizza oven, plus a grill, griddle, and wok for a dual fired stove experience. The company also offers an extended line of commercial pizza ovens for restaurants and catering operations.