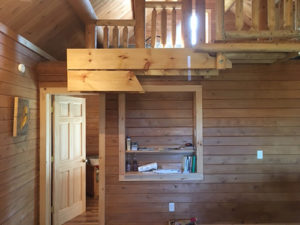 A small Katahdin Cedar Log Home can be just the right size for a weekend getaway or what Mainers call a summer camp. Equipped with a loft, a porch and the basics, these hideaways are great for family togetherness. But if you're like Katahdin customer Ken Heenan, you may want to convert your loft ladder to a retractable electric loft stair. He did just that in his Mount Chase, Maine, vacation log cabin. We thought we'd share his retrofit to give you some ideas.
What are the Benefits of Retractable Loft Stairs?
Even if you've used a ladder to access the loft in your log home, there are benefits to upgrading to a retractable loft stair.
Improved Safety— The grandkids may be adept at scooting up and down the stairs, but after a while, carrying sheets, cleaning equipment and other items up those ladder steps can be a pain. With a retractable stair the footing is wide and solid with a handrail.
Extra Space — If you decide to install a traditional stairway to the loft, it can consume a lot of floor space! By being able to stow your stairway away, you'll improve the flow and open feeling on your main floor with nearly 37 extra square feet!
Limited Access — Little ones can be hard to keep track of! The ability to lift and fold away access to the loft will limit the access to the upper floors to keep kids in sight.
Powered Lifting — By using an electric motor to operate, you'll be able to lift and lower at the push of a button!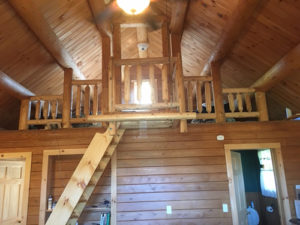 Ken's Retrofit Design
Handy with a hammer and saw, Heenan measured the space and sketched out his idea. The first step was to build a landing, which was suspended by cables to the purlins. He wanted to avoid using posts to support the landing to free up as much space as possible. The stair consisted of ten steps, with the bottom two steps hinged to provide clearance. When lifting the stairs up, the last two steps are secured with a handy hook. The stairs are powered with an electric winch, capable of lifting 2000 pounds. The cable that lifts the stairs is run along the wall to keep it out of the way. Heenan equipped the winch with a battery backup, because it's Maine and sometimes the power goes out.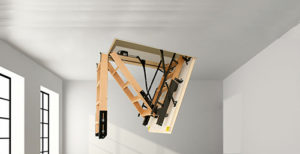 Premade Electric Loft Ladders
Another option for foldaway ease is Skylark Electric Attic Stairs. Designed for more conventional attic access, these stairs deploy and retract at the touch of a button or via your smart phone via Bluetooth. They employ similar steel cable design as Heenan's design but fold up into the ceiling or loft floor for seamless stowage. This nice feature of the Skylark stairs is that they are constructed of good-looking hardwood steps and stringers, with sleek black accents for hinges, rails and supports.