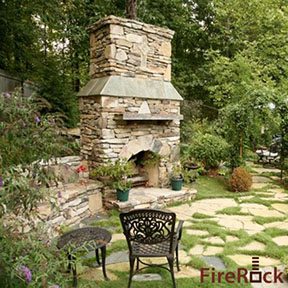 One way to extend the season of outdoor terraces and patios is the addition of an outdoor fireplace. It can be the visual and social centerpiece of your outdoor entertaining and add value to your home. One company, FireRock, manufactures pre-engineered fireplace units that are simple and quick to assemble, precision engineered, and much less expensive when compared to custom masonry. FireRock's kits come with stackable pieces, which fit together like Legos.
FireRock's kits include all the masonry components for a functional outdoor fireplace, including firebox, smoke chamber, and two or three feet of chimney. The kits can be assembled by two relatively fit adults in a day, with the additional veneering taking a second day. The kits provide a stable masonry base for finish veneers of brick, stone facing, stucco or other non-flammable material. Unless you are a skilled bricklayer or mason, this part of the project should probably be contracted out.
We spoke to FireRock's Paul Dabbs about their outdoor fireplaces. "These engineered fireplaces take the guesswork out of an outdoor fireplace," he said. "On his best day, doing his best work, a traditional mason will only be moderately successful in building a fireplace and chimney that draws and functions as well as a FireRock fireplace does." Dabbs mentioned that the fireplace kits work right out of the box, and that many of their dealers can provide the finish work on veneers. Depending on the size of your outdoor fireplace project, a mason can cost as much as 70 percent more to construct a fireplace that might or might not work properly.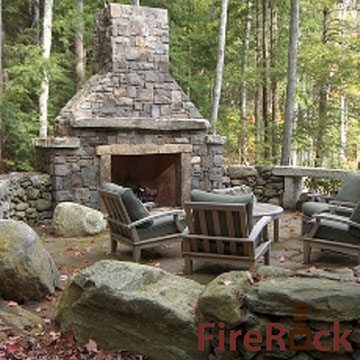 FireRock's outdoor fireplace products are available in three styles: traditional square firebox opening, an arched front fireplace, or a Rumford-style, taller opening. Additional chimney stock is available for all styles. Additionally, FireRock offers a round fire ring and a square fire pit, and an outdoor oven, ideal for wood fired pizzas and rustic bread. All models are designed to be overlaid with your choice of veneer or stone.
The website also includes an installation video to illustrate the way in which the components are assembled for use. FireRock includes firebrick, and specialized mortar to complete the fireplace project. The video includes plenty of helpful tips for success. A dealer locator feature on the company's website can locate an experienced dealer near your home.