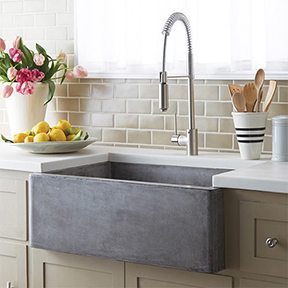 One design trend for kitchens is the commercial style pre-rinse kitchen faucets that add good looks and terrific functionality to a home chef's kitchen. With their high arching spout and powerful sprayer, these faucets can make a statement in your kitchen.
Their high arching clearance make it a snap to fill large pots. When paired with a deep apron farmhouse style sink, you're ready to tackle any type of project! Pre-rinse faucets get their name from the high-pressure sprayer engineered into the faucet assembly. In commercial kitchens, they make cleanup quick—just the kind of tool you'll love in your gourmet kitchen when you have large family gatherings!
Features to Consider
Many pre-rinse faucet models are configured with a crossbar to hold the sprayer in place when using it for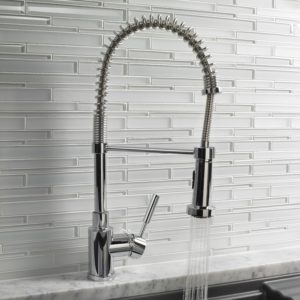 regular water stream. The forceful sprayer is activated with a button or grip and in some models will have two pressure settings. You'll want to test these out is a showroom to ensure that the sprayer fits comfortably in your hand and is easy to manipulate one-handed. Often the sprayer hose is held within a metal coil to allow for flexible use. Other designs combine the large sprayer with a smaller arched faucet for gentler water flow.
While the classic commercial style is stainless, this trend has kitchen manufacturers offering models in all kinds of finishes, including the Moen Matte Black model here. For classic good looks, the Blanco Meridian Semi Professional (right) is available in satin nickel finish or polished chrome.