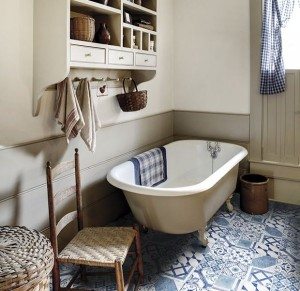 We love tile for mud room floors, counter back splashes, stove surrounds and baths. One interesting way to introduce a bit of whimsy into your tile design is to create a quilt-like pattern within the design. This can take on many forms, as subtle and as colorful as desired.
Fireclay Tile offers some terrific combinations for "tex-tiles," starting with their hand painted tile collections. These can be assembled like the colorful fabrics used in a quilt in many ways. Using floral or graphics with similar colors can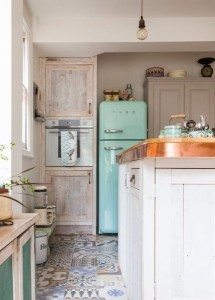 provide a bright focal point as a central tile "carpet" in a large bathroom or mudroom. The designs can also be worked like a geometric design using triangles, squares or arabesque motifs in ways that resemble pieced quilt work designs like "broken dishes" or "flying geese." These can be very effective using just two or three colors in combination, while filling a square or rectangular highlight area.
Finally, an elegant approach would be a tone-on-tone treatment, using either different textures or subtle subtle variations in the color (oyster, sand and offwhite, for example). This design could form a lovely backsplash treatment that provides visual relief without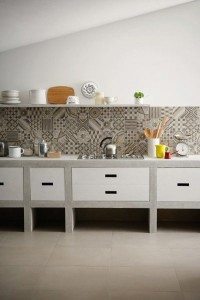 overwhelming the kitchen or bath. Even more subtle might be a single color, texture-only treatment, with different texture patterns arranged randomly.
Fireclay's Mediterranean collection offers some terrific designs for both vibrant colors as well as tone-on-tone neutrals. The Moroccan collection provides some more geometric designs in blues and beiges.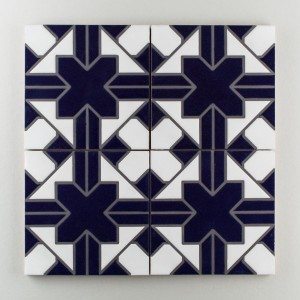 An added benefit to Fireclay's beautiful design palette is their environmental commitment to recycling and local craftsmen.