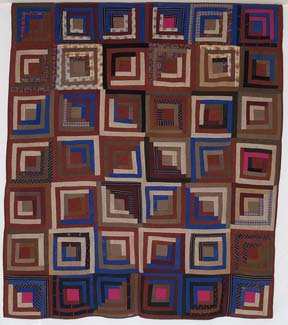 Combining folk art and a rainbow of color, quilts can nestle into a log home décor quite naturally. Whether you have a family heirloom quilt folded away in a trunk or have a talent for stitching your own modern quilt, these textiles are at once both art and history.
If you're new to the world of quilts, you may want to research some of the common styles of quilts created over the past 200 years. Certain patterns are quite widespread, including one natural for your log home, the log cabin design (pictured right). Log cabin and other traditional designs are "pieced" from smaller bits of fabric using a template design. Other types of quilts include extra needlework or embroidery. Some quilt designs are appliquéd, where shapes are stitched to the backing fabric. On some quilts the true artistry is in the quilting pattern itself, with wreaths, geometrical or other patterns creating an extra dimension of texture.
"I've worked with many interior designers over the past 25 years and have probably placed more than 150 of my quilts in log homes across the country," said Betsey Telford-Goodwin, quilt appraiser and owner of Rocky Mountain Quilts  in York Village, Maine. Betsey explained that quilts may be used in three basic ways in the home: on the wall as art, on a bed or as what she calls a "cuddle quilt." When considering a quilt, she suggests that it be viewed horizontally and vertically, as well as touched for a tactile feedback. "Each quilt looks and feels different from each of these perspectives," she explained.
Betsey calls her antique quilts "probably the best value for art and collecting" available. Both the novice buyer and the serious collector can acquire beautiful works of folk art that will appreciate in value, as the supply of antique quilts is limited and shrinking. Quilts are also one of the few forms of expression from women in early America, she added. "Because they were considered 'women's work' they were valued for their functionality," Betsey said. "But collectors now can appreciate these works of history and art for what they are."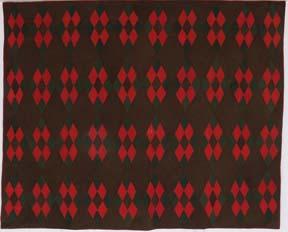 Betsey has some recommendations and tips for log home owners who want to add quilts to their décor.
Proper care for quilts—Quilts should never be washed in a machine and can skip the dry cleaners as well. Gentle hand washing is the safest way to clean quilts. If you feel it is too delicate, or requires special attention, send it to a specialist for cleaning. Betsey does provide cleaning services through her retail store and all her quilts are cleaned before being sold.
Wall display—Use a careful approach for displaying quilts and you'll be able to enjoy your quilts for a long while. Betsey has expanded on traditional curatorial display by adding a pocket at the top and bottom of a quilt so that it can be hung on a wall, secured along the length of the top and bottom edges. That way the quilt doesn't flutter with breezes or ceiling fans.
Entry-level investments—Finished fragments are smaller portions of quilts that were damaged. These smaller pieces are finished with age-matched cloth and provide a smaller decorative piece that is also much less expensive. Other, larger quilts can also be acquired for a relative small investment when compared to other artworks.
Reduce noise—Especially for large rooms with multiple hard surfaces, quilts can have an acoustical effect when displayed on walls. Many pianists hang their quilts behind pianos to absorb sounds. Other good acoustical locations include stairways and hallways.
Great Room art—Great rooms often have a lot of wall area. A large and striking quilt can add a burst of color as well as soften hard edges.
Buying quilts—There are many sources for finding quilts, either on your own or from a reputable dealer. If the quilt is an antique textile, you'll want to ask the seller if there is a provenance or history to the quilt. Knowing the background of a quilt can sometimes add to the value. If buying from a non-local source, ask to view the quilt on approval, as photographs and computer screens are no substitute for experiencing your quilt in its new setting. A reputable dealer should always send on approval.
 Avoid sun exposure— Like all textiles, quilts are especially sensitive to ultraviolet (UV) exposure, which can cause fading and fiber deterioration. Betsey noted that this doesn't mean you can't display quilts in well-lit rooms with lots of windows, just keep quilts away from direct sun. With today's Low-E windows, UV exposure is less of a worry than in older homes.
 Enjoy quilts in daily use—Betsey likes to say, "sleep under quilts not on top of them." What she means is that quilts should be part of everyday life, but should also be treated with respect. A "cuddle quilt" on a couch or chair can be folded or stored in a basket when guests are seated on the furniture.
Betsey's enthusiasm for her quilts is self-evident. She came to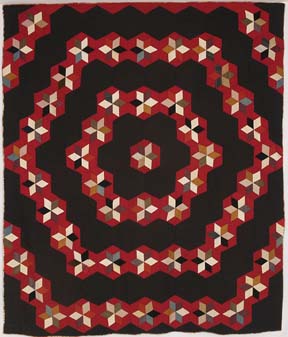 quilts almost 25 years ago, but has become an internationally recognized expert in the antique quilts she collects, sells and restores. She has worked with many log home interior designers and believes that log homes are a natural and beautiful setting to enjoy quilts. Her website and shop can give visitors a treat for the senses and a good education on the types of quilts available.
Quilt credits (top to bottom):
Q6468 Funky Log Cabin
Q8604 Alternating Log Cabin/Diagonal
Q8623 Linsey Woolsey Diamond 9 Square
Q8615 Tumbling Blocks
Q8614 Tumbling Stars