Last month, local volunteers, and Perma-Chink and Katahdin representatives converged to apply stain and topcoat to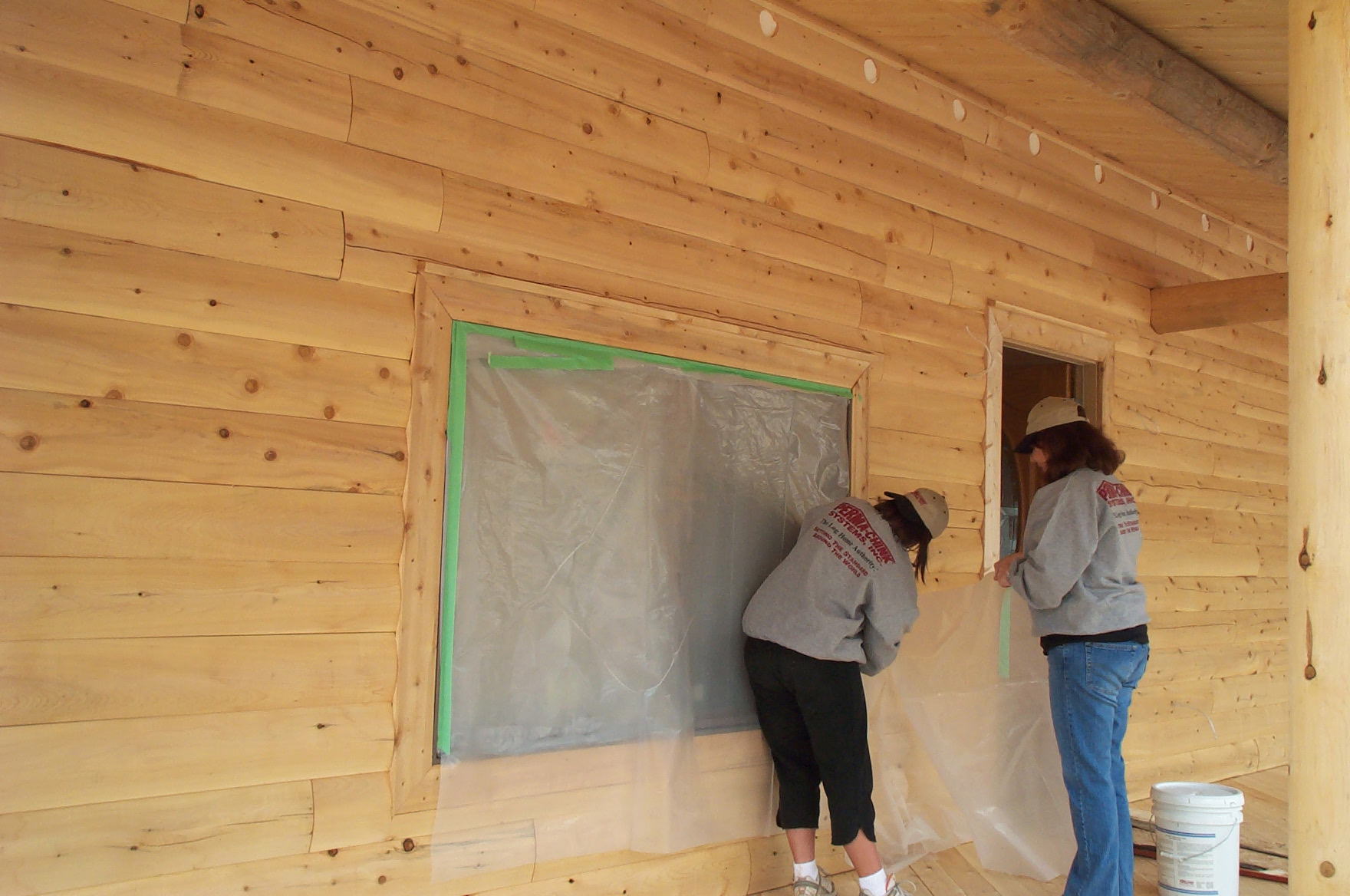 the custom-built Katahdin Cedar Log Home built by the Raise a Roof organization for Beth Eldreth, a special needs resident of West Jefferson, NC.
Raise a Roof founder Ron Zapcic is close to realizing a dream that started in 2005 when he participated in the Extreme Makeover Home Edition project in which Katahdin built a cedar log home for a family in Southern Maine.
Zapcic worked on the night crew on the Extreme Makeover site, working on finishing while other crews rested during the grueling weeklong, 24-hour-a-day building project. While taking a break around 4 a.m., he considered the challenge they had taken on. Zapcic had an epiphany: "Why can't we do this at home in North Carolina?"
To realize his vision, Zapcic decided that he wanted to create a lasting effect in his community, not just a one-time project like Extreme Makeover. As a result of his experiences, he and his wife Vera founded a nonprofit organization, Raise a Roof – Rebuild a Life Inc., to build log homes in their area for deserving families or individuals.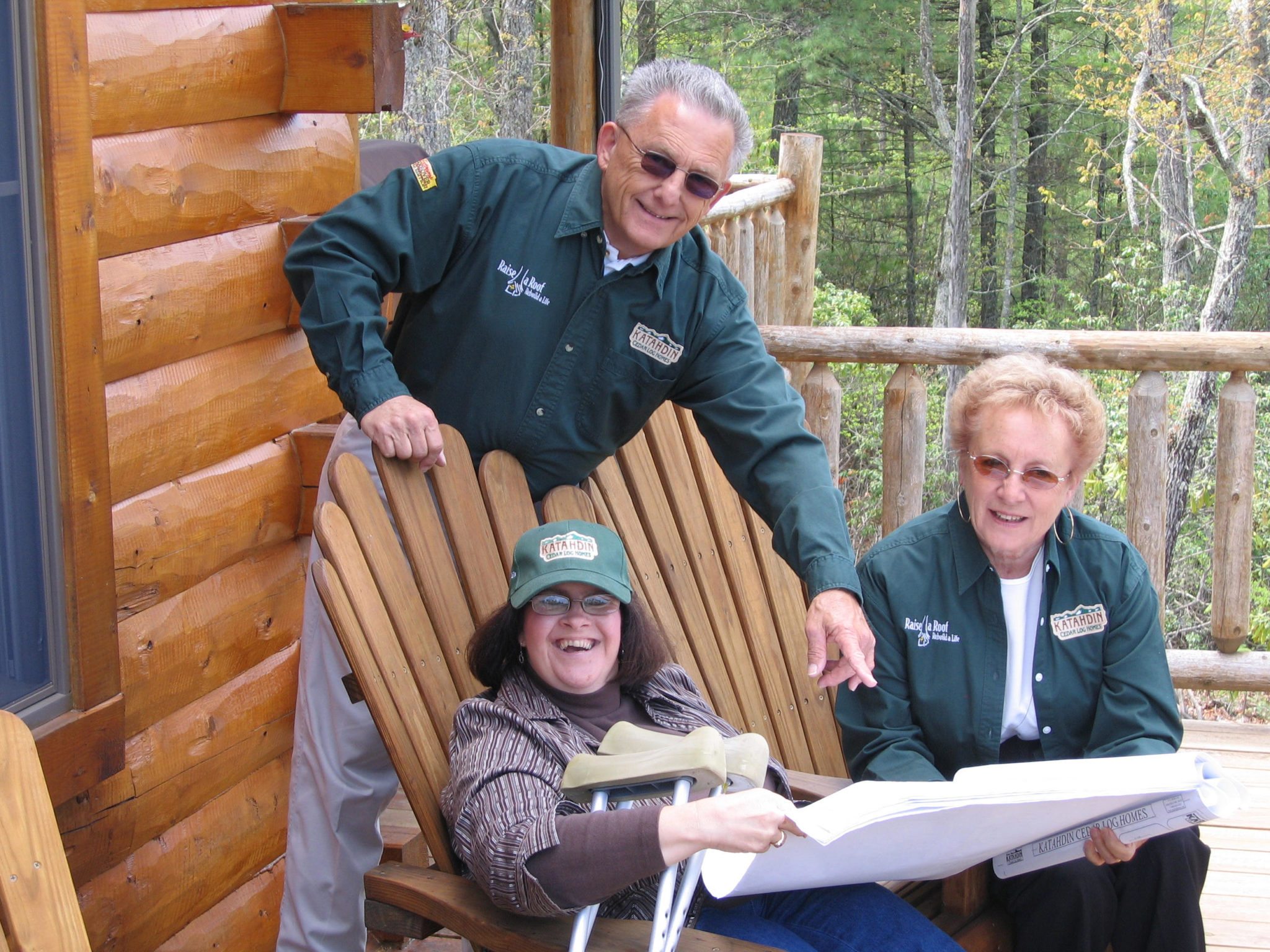 With the support of his parent company, Katahdin Cedar Log Homes in Oakfield, Maine, he has embarked on a course to make a difference in his community, one log home at a time. Thirty-nine-year-old Beth Eldreth of West Jefferson is the first recipient of Raise a Roof. Eldreth (seated at left with Ron and Vera Zapcic) has struggled much of her life with severe birth defects, which have left her deaf, and with mobility limited to walking with crutches. Her condition has restricted her growth to only 4 feet tall.
However, her challenges have not kept her spirit down: She graduated from high school, drives a hand-controlled automobile and has held numerous jobs in data entry. Her new log home comes at a time when her mother has begun to worry about Eldreth's future, when family members may not be able to help her in her day-to-day activities.
Working closely with the Katahdin Design Team in Maine, Zapcic has designed a small, 1,200-square-foot, single-story, accessible log home with details to meet Eldreth's special needs. Some of those custom features include lower windows to fit her range of vision; an accessible bathroom; wider halls and doors; and cupboards instead of closets. All the appliances are front-loading and in the kitchen, Zapcic has combined a stovetop fitted onto the lowered kitchen cabinets and a separate oven in place of a standard range.
Zapcic located an army of builders for the log raising. In addition, local builders and contracting suppliers have pitched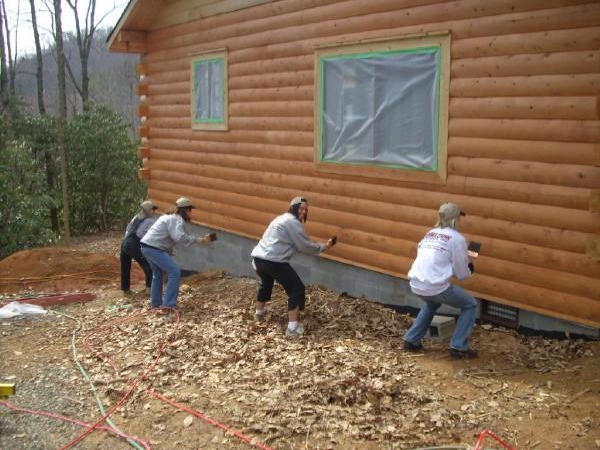 in with goods and services to complete the dream. Many elements of the home have found individual sponsors, including plumbing, painting, flooring, electrical equipment, a security system and exterior stain.
As volunteers applied the last coat of topcoat on Beth's home, Ron and Vera Zapcic were able to realize the dreams of one special person in their community.