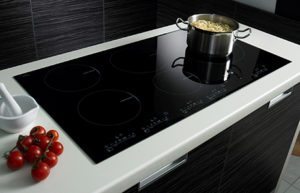 Every year, manufacturers come up with new ideas for their appliances, some great, some not so much. We looked at five of the best new range features you'll want to consider for your new log home kitchen.
Induction Cooking
Induction cooking has become more accessible and affordable. It uses electricity and magnetic force to heat quickly and simmer accurately. The heat stops on the stove surface when you remove the pan. It's more accurate and efficient than a traditional electric stove top and you avoid the excess combustion fumes from a gas flame. The smooth surface remains cooler than glass top stoves, so clean up is easier. Pans need to be magnetic, so All Clad stainless and other brands also work on induction. We like induction too, because you'll put your collection of cast iron skillets to good use.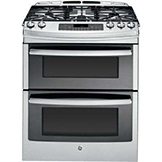 Double Ovens
Double ovens are a great option for homeowners who host big gatherings. Use a single oven for intimate dinners— a money saving feature since you're not heating more space than you need. When the gang arrives, use both ovens— one for pies the other for savories and meats. You'll be able to cook at different temperatures with no cross-aroma issues.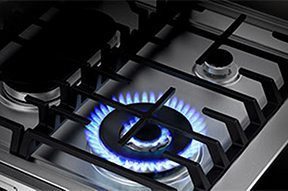 Warming Drawer
If entertaining is your thing, a warming drawer is a great addition to consider. Place previous cooked items to warm or stay heated while the main oven does the cooking work. Great for appetizers, veggie dishes and desserts. If your choice of range doesn't include one, it's an easy component addition to your kitchen island.
High-Power Burners
High-power burners are an excellent choice for bringing a pot of pasta water to boil quickly or getting just the right char on your wok stir-fry. Many ranges are equipped with a high-power burner or two that can make your cooking preparation effortless. These high-powered burners add extra BTUs so you'll need to ensure your exhaust hood matches it in power.
Convection Oven
A convection oven can speed cooking times and provide a crisp finish to roasts and baked goods. The convection fan circulates the heated air around the food so that it cooks more evenly and quickly.  Convection has become a common additional feature on many moderately priced ranges.
If you aren't sure about whether you'll use one of these new features, check with friends to see what their experiences are.