T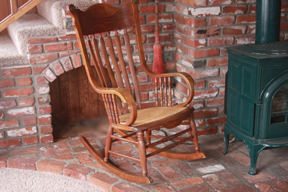 here's certainly nothing more relaxing than the gentle rhythms of a rocking chair. Many families treasure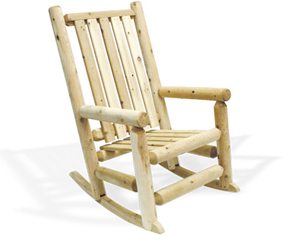 the well-used antique rockers that grandma used to calm the generations of infants in her care.
Many of these antique rockers have cane seats or upholstered cushions, which can be carefully restored for comfortable seating. Some antiques also have ingenious features, such as the ability to fold up for easy storage.
If you aren't lucky enough to have possession of the family heirloom, there are plenty of modern options with a rustic or traditional look perfect for furnishing your log home.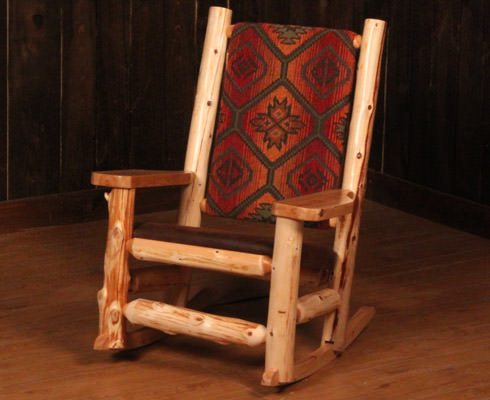 White Cedar Rockers
What better way to complement your log home than with a fine crafted rocker made from the same beautiful Northern white cedar? Rocky Top Log Furniture uses this lightweight and durable wood for its traditional rustic rockers(above left) as well as their new line of LogHeads upholstered rocking chairs. The LogHeads rockers (right) have fabric covered back and comfy upholstered seat cushion. The seat cushion uses compressed foam to maintain the cushion's comfort and good looks longer than regular foam padding. Rocky Top offers a selection of 27 fabrics from earthy solids to colorful rustic patterns and native inspired designs.
Hardwood Rockers
Traditional wood slat rockers offer another option that fits within a log home décor. The Rocking Chair Company offers several styles of solid ash Bob Timberlake rockers: the Cottage rocker (below), the slightly wider Lodge rocker and child scale options, as well. The rockers are available in five finishes, including a barn door red for a splash of color.