Our friends at Rocky Top Log Furniture have been hard at work expanding their handcrafted rustic cedar furniture lines for just about every room in your log home. The styles, textures and finishes offer an opportunity to have a custom designed selection to fit your tastes and home design. Make these pieces the centerpiece of your new home for years to come!
We caught up with Tommy Mitchell recently. "We've been hard at work on new furniture lines," said Mitchell, "including our Buck Ridge line, just released in October." This line features a nice, clean look, with more natural character included. Buck Ridge also features genuine reclaimed wood salvaged from interiors of barns to avoid any exposure to paint or creosote often found on exterior reclaim wood. "We are very health conscious in all of our furniture lines."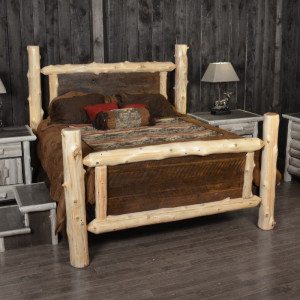 The company also designed a Native Living line of furniture and cabinetry for Mossy Oak, another online retailer. Mitchell is also busy developing another new line for launch in the Spring of 2016 called Tommy Mitchell Signature. Tommy and Gwen Mitchell will also be airing around February 2016 on the DIY Network with their popular LogHeads reality television show.
There are many ways a customer can individualize their Rocky Top Furniture. Here are some general categories to get started:
Materials and Styles
Mitchell explains that Rocky Top starts with natural Northern White Cedar wood from northern forests, that are naturally chemical-free. The stains and finishes the company uses are water based and contain no formaldehyde. Rocky Top offers four styles for the way the pieces of furniture are stained. Option A has color stain on the legs and handles on a drawer unit, with the remaining pieces natural. Option B reverses that and stains all but the legs and handles. Option C indicates that all parts of the furniture are stained, and the final option is our Buck Ridge line, according to Mitchell.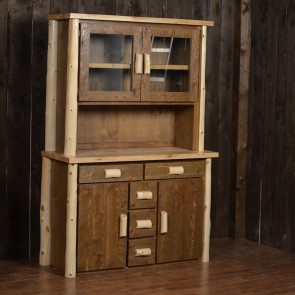 Textures
Rocky Top's options for textures refer to those elements in the furniture piece that have a curved surface like a tree trunk or limb. The first option is Smooth, which is a clean and straightforward smooth surface. Slightly more rustic is the Handhewn texture, which captures some of the handmade character so popular in rustic style furniture. The final option is the Log Head texture, where the limb knobs of the cedar tree are left on the log but sanded smooth for a rugged, traditional look.
Surfaces
Surfaces are the flat finished parts of furniture, including headboard panels, table and bureau tops; drawer fronts and sides panels. These surfaces may be finished in three ways: Smooth, Rough Sawn and Reclaimed. The Smooth option is sanded to a smooth, rich finish that highlights the wood's natural beauty. Rough Sawn has a rougher texture and shows the cuts of the saw blade for a unique finish that is more rustic. The Reclaimed surface is designed to capture the history and character of these reclaimed boards from the clean, unpainted and untreated interiors of barns and other sources. These can be quite variable and a delightful option for a beautiful, finely aged appearance.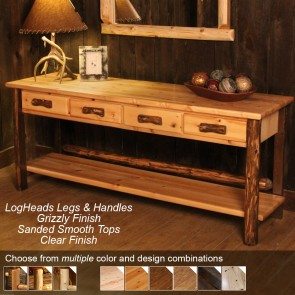 Finishes
Finishes are available in four standard options: Unfinished, Clear, Grizzly and Ebony. Unfinished is simply left untreated, ready for your own application of stain or oil. Many folks leave their furniture unfinished to allow a natural patina to develop through use. All other finishes are applied in three full coats to enhance the natural durability of the wood. Clear coat is a durable high-quality transparent finish. Grizzly is a warm medium brown finish.  Ebony is a deep black-brown finish.
Your individuality can shine depending on the combination of styles, textures, surfaces and finishes you select. Rocky Top Log Furniture also offers complete décor accessories from bedding to lighting and rugs. These offerings are specially designed to work together well with a charming mix of colors, textures and finishes. Tommy also wanted to emphasize that they can craft furniture to just about any specification, "Just give us a call."