When it comes to furnishing a new log home, nothing works like the rustic style of cedar log furniture. One furniture company, Rocky Top Log Furniture and Railing not only produces a wide range of premiere indoor and outdoor furnishings crafted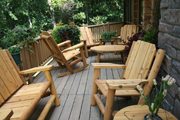 from Northern White Cedar, they also offer the discerning home decorator the opportunity to design something special.
Katahdin first started working with Rocky Top in 2005, when they joined the crew to furnish the Extreme Makeover: Home Edition log home in September. For that project, owner Tommy Mitchell and his woodworking team followed the lead of the Makeover team to construct cedar log furnishings for the family's new log home. Since that first experience, the Rocky Top team has participated in several other programs.
Pretty heady stuff for Tommy Mitchell, who started making his cedar log furniture out of his garage twenty years ago — first for family and friends, then for clients. He really began to win new customers over when he was tapped for furnishings for Bass Pro Shops, Six Flags and Dollywood amusement parks and clothier J. Peterman.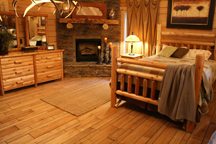 Log furniture can complete your decorating picture
Now he offers several lines of furniture for most of the rooms in a house. Because the furniture is constructed from the same species, Northern White Cedar, it compliments the interiors of Katahdin homes especially well. For those home owners who's vision of a log home is a comfortable refuge for everyday life, Rocky Top's furnishings can complete the picture framed by the home's log walls.
One popular seller is the Rocky Top line of beds, including Mitchell's Signature Collection, which feature a hand-carved medallion on the headboard. The medallions depict scenes from nature and county life and he's adding new designs each year. For the customer who has a special idea for their cedar furniture, Rocky Top has a complete design team who can create a customer's special design as a custom order.
"We've put our hearts into these designs and you can't fake that," said Mitchell. "As busy as I am right now, I can't wait to get back into the shop and put together some new designs."
He's expanded into living room and dining furniture and relaxing outdoor Adirondack-style chairs, settees and rockers. The cedar that Rocky Top uses to construct the furniture is especially suited to outdoor furniture, given the wood's natural resistance to rot, insects, and mildew.

Developing new designs
In the coming months, Mitchell and his design team will be adding to a new Cottage line of furnishings which are scaled to better fit smaller camp and cottage living areas. The Cottage Bunk Bed set (left) is already a best seller, with many log home owners reminiscing about their own childhood camp experiences and needing a smaller scale for loft areas in their homes.
Rocky Top Cedar Log Furniture can be purchased unfinished or with a professionally applied clear varnish and top coat finish. The orders are hand packed in

specially-designed boxes to arrive at their destinations safely.
Mitchell recently expanded his interests with a joint venture with country music singer Eddie Montgomery (at left in photo), half of the duo Montgomery Gentry. The new project is a retail and residential development just outside of Harrodsburg, Ky., called Skylar's Landing, which features a 20,000 square-foot restaurant, Eddie Montgomery's Steakhouse. The Steakhouse has been designed and manufactured by Katahdin Cedar Log Homes, and log walls will be rising beginning this month.