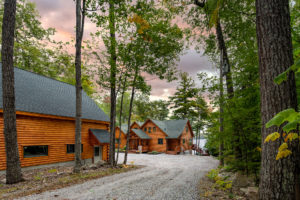 Mountain locations are the perfect inspiration for your new Katahdin Cedar Log Home. The Seven Springs PA log home show November 15-17 in the Appalachian Mountains is sure to provide plenty of ideas and information to help you find your log home destination.
If you're curious about the contemporary look and feel of a beautiful Arborwall Solid Cedar Home, check out An Evening With Arborwall on Saturday, Dec 7 in Leesport, Pa. To register, click on the link below.
On the calendar for January 2020 are two more Midwestern locations: Nashville and Columbus, Ohio. No matter which event you choose, these shows are a great way to compare and contrast log home manufacturers, styles and options under one roof. You'll learn about Katahdin's dedication to quality, efficiency and great design—there's always something new!
A visit to our beautiful Katahdin booth gives you a chance to see more about what makes our approach unique, including our commitment to energy efficiency and complete custom-designed log home packages. Take a moment to check out these log home shows and stay tuned for more updates on our Events page.
Log Home Event Schedule
Nov 15-17       Seven Springs, Pa. Log & Timber Home Show & University
Dec 7               An Evening with Arborwall in Leesport, PA
2020 Events
Jan 10-12              Nashville TN  Log & Timber Home Show & University
Jan 24-26              Columbus OH Log & Timber Home Show & University
Feb 21-23              Kansas City MO Log & Timber Home Show & University
Mar 7-8                 Atlanta GA Log & Timber Home Show & University