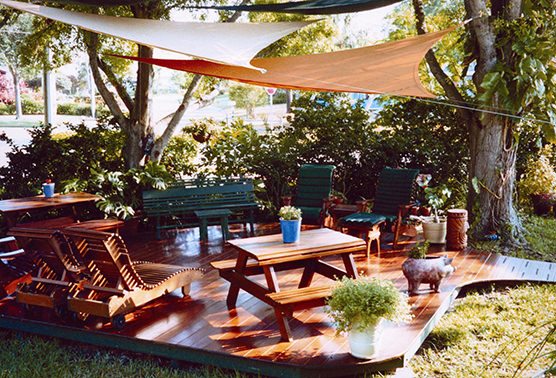 Log homes often feature large deck areas that create extra outdoor living areas. Adding a shade sail or a more permanent pergola can keep these areas pleasant when the sun is high in the sky or rain threatens out door activities.
Shade Sails
Shade sails have become a dynamic way for outdoor areas to become more comfortable on sunny days. These fabric shapes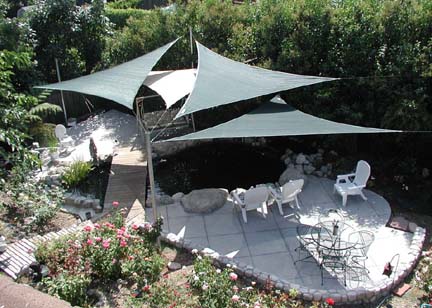 are engineered to be stretched tautly between sturdy posts over the area needing shade. Quality shade sails must be manufactured with high quality cloth that resists damage from the elements, and stitched together with UV-resistant thread to maintain structural integrity. Ready-made shade sails sold by ShadeSails.com are sold by fabric weight — grams per square meter—with a heavier fabric offering more durability. Pre-made shade sails are available in a number of sizes and shapes. And need to be secured with strong posts or sturdy exterior walls. Shade Sails also offers custom sails and customer service to assist.
Louvered Pergolas
If rain is the challenge for enjoying your outdoor spaces, then the Bella Blades + LouverLock system provide a beautiful weather tight solution of outdoor spaces. The architectural glass Bella Blades are manufactured with a proprietary process that creates beautiful design as well as UV protection and light transmission. The glass Bella Blades are fitted into a louver system that provides a weather tight seal when closed and opens easily for adjusting.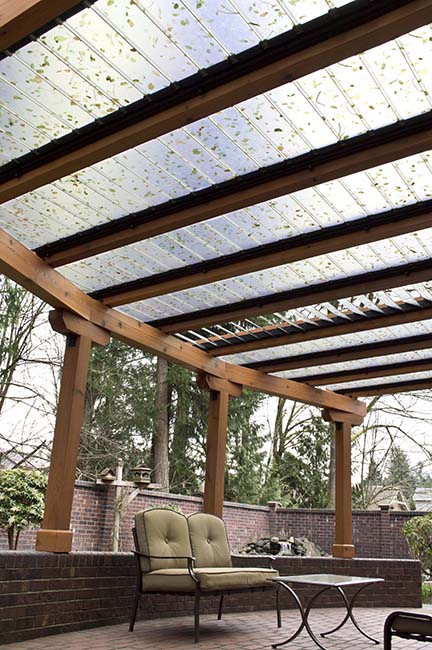 "We are excited to be able to offer a completely new and innovative shade canopy system," said Miguel Villareal, the company's marketing director. The louvers tilt to a maximum of 160 degrees and close to provide protection from rain. The glass panels are beautifully translucent and are available in many color combinations that reflect a beauty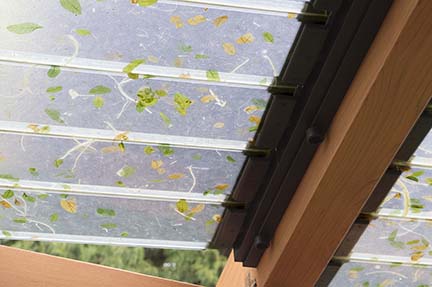 found in nature. Enso Glass is available in patterns that resemble grass, leaves and natural textures and colors. Truth Hardware, a 50-year-old company that designs and manufactures the locking louver system works closely with Bella Glass to incorporate the Enso glass into their louver system. The combination of louvered glass and functional pergola provides a weather resistant system that is as stunning as it is practical.
It's a good idea to include these concepts in any planning for deck structures as some adjustments may be necessary to accommodate the structures in log homes.