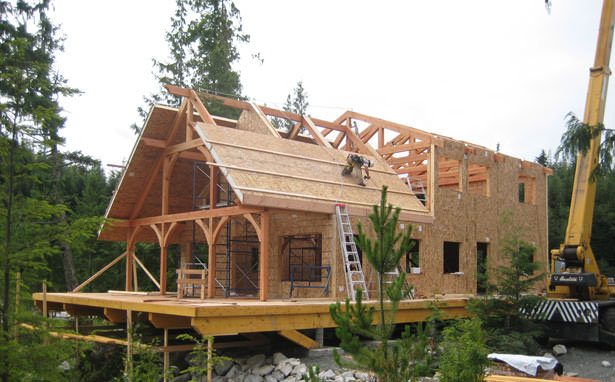 For homebuilders interested in energy efficiency and fuel savings, some builders are tapping into Structural Insulated Panels or SIPs as a structural option to stick built and increasingly whole log homes. Many "hybrid" log home designs also rely on SIPs for the guts of the building envelope. We thought we'd take a look at SIPs to see how they compare to Katahdin's Energy Envelope System® over a wide range of factors.
What are SIPs?
According to the Structural Insulated Panel Association, SIPs are "custom-designed, prefabricated wall, roof and floor panels made of a rigid foam core sandwiched between two structural skins, usually of oriented strand board (OSB). Computer-controlled fabrication allows SIPs to be cut to the design of the home … then delivered to the jobsite for a speedy install."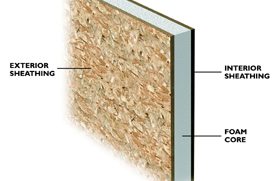 Thermal Properties
SIPs came into use when energy efficiency played a larger role in home building and design. To eliminate the heat loss through thermal bridging, SIPs were developed to create a continuously insulated exterior wall in the home. Thermal bridging is the loss of heat through lower R-value studs, between which insulation is installed.
Cedar Log Walls and Thermal Bridging
In many ways, Katahdin's Energy Envelope System® log walls perform similarly to SIPs with their continuously insulated surface, high energy efficiency rating and lack of thermal bridging. The difference that Katahdin's homes offer is the natural wood structure that is 6 inches thick on the exterior and the interior natural cedar tongue-in-groove paneling that comprise the exterior and interior "skins" of a Katahdin home. SIPs create their structural support from OSB boards skins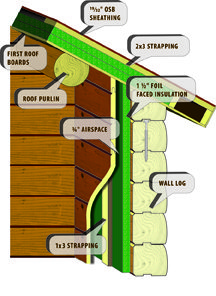 that are glued to the layer of insulation.
OSB, Formaldehyde and Water
Oriented Strand Board (OSB) is a more efficiently manufactured type of plywood, used extensively in residential building. Instead of large sheets of plied wood (or plywood, which requires larger more mature trees) OSB uses large chips of wood, oriented in many different directions to provide strength without thickness. The strands are then glued together under pressure using various types of glue. OSB sheets use Exposure 1 Adhesives, either phenol formaldehyde glue, or diphenylmethane diisocyanate (MDI), both of which off gas formaldehyde, though in levels that are acceptable to building codes.
Added Irritants
However, for people with respiratory illnesses or sensitivities, exposed OSB can cause skin irritation and difficulty breathing. Some building experts recommend storing SIPs and OSB for a week or two before construction to allow for any remnant off gassing to occur.
OSB boards as the exterior skins of SIPs can also be susceptible to moisture. SIP homes must be tightly and completely sealed to avoid air leakage and to prevent exposure to water and moisture. Water has been know to cause bulging along the edges of OSB, though some manufacturers have started treating edges for moisture proofing. SIP manufacturers also recommend that exterior sips be treated with insecticides to avoid potential damage from insects.
Northern White Cedar, like the logs used in Katahdin Log Homes, produce an oil that is naturally resistant to mildew, rot and insect damage. Homeowners in cedar log homes are spared the necessity of treating wood with toxic pesticides and chemicals to keep damage at bay.
SIPs and their skin components of OSBs are made from insect- and mold-susceptible pine or aspen. These trees need carefully tended farming practices, including chemical protection for insects and diseases. Cedar propagates naturally and requires no additional chemicals to thrive in the wild.
The foam center of the SIP sandwich is most often made of expanded polystyrene (EPS). This foam insulation is mostly air, with only 2% of the foam comprised of petroleum-based plastic.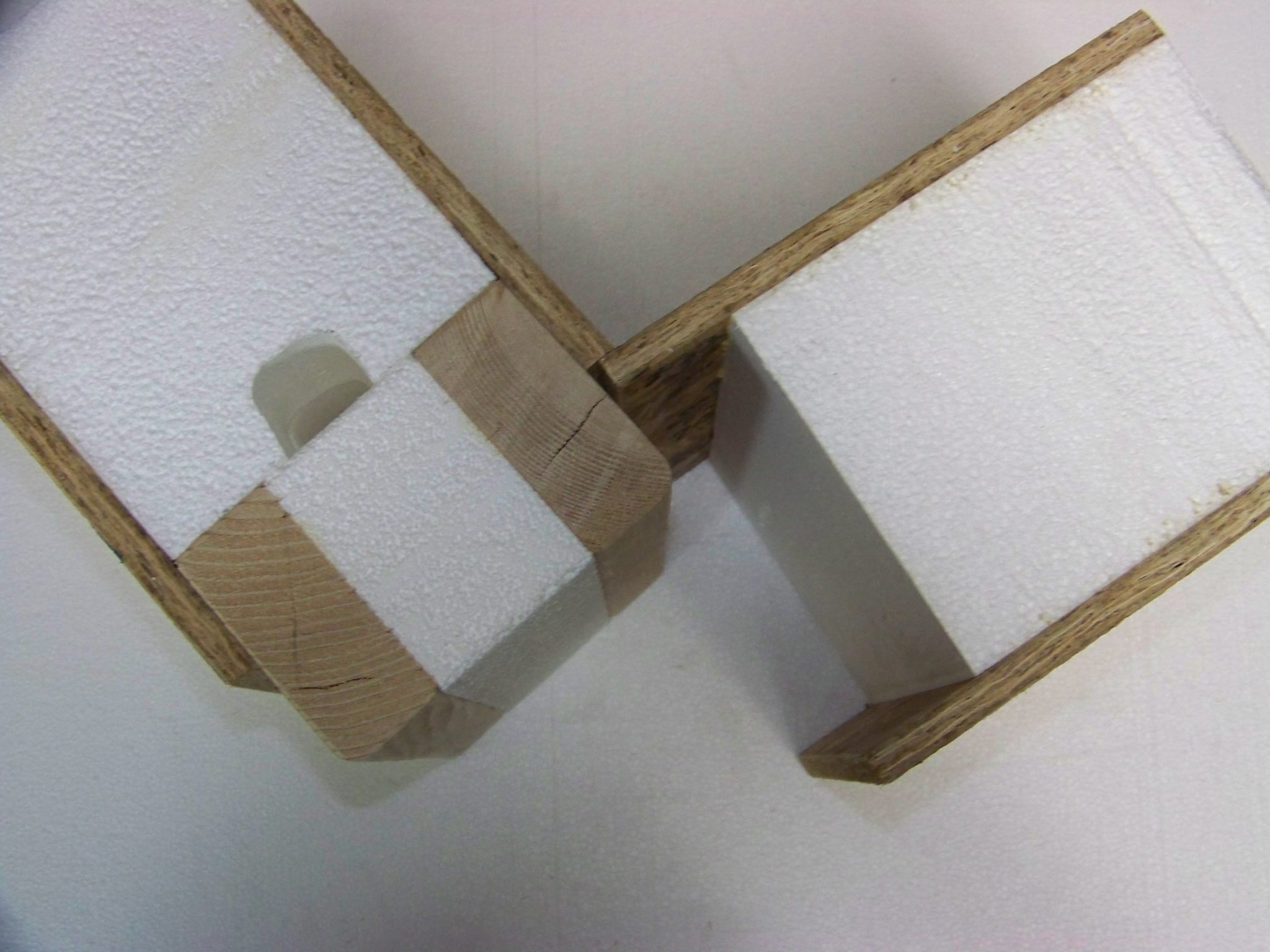 Ease of Construction
SIPs are a favorite of many contractors because of their ease of use. One Katahdin dealer, Aaron Dunn of Big Twig Homes, builds both log homes and SIP homes. He explained the construction process. "The SIPs are connected by either splines or key lock systems specific to the manufacturer. The key locks allow SIPs to slide in place and connect much like Lego systems," he said. Each seam and intersection is completely sealed. SIP panels are handled by a couple of workers if they are small, but larger wall panels may require cranes to lower the pieces into place, Dunn added.
Katahdin's bar-coded plan system also enables an expedited construction when compared to traditional log homes. Log raisings can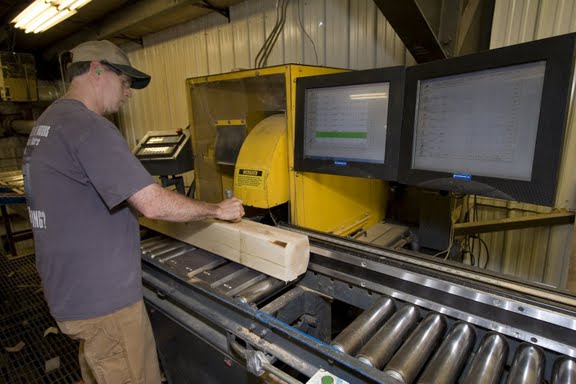 have the exterior shell up quickly and closed in for interior finishing and detailing.
Essential Ventilation and Moisture Control
Like many modern homes, good mechanical ventilation systems help to prevent problems with moisture and mold build up as well as maintaining a comfortable living environment. Homes using SIPs are more tightly sealed than most stick-built homes and therefore require a higher level of powerful mechanical ventilation systems that exhaust moisture and stale air but retain heat.
Katahdin also produces a well-sealed home with the layers in the Energy Envelope System®. The small airspace that also acts as an insulator reduces moisture condensation should there be an inadvertent air leak. Generally, blower door tests can identify any air leakage issues that can be remedied before final finishing of the home.
SIPs, Electrical and Plumbing
To maintain the continuous insulation properties of the SIP panels, channels are pre-cut into the foam center to accommodate electrical wiring and outlets. It is not recommended to place plumbing on exterior walls. As the SIPs are constructed based on plans in advance, any onsite changes to wiring layouts may be problematic.
With Katahdin's whole log all construction and benefits of low-moisture logs, the wiring and plumbing contracting can install these utilities after the exterior log walls are in place and before the final interior surface (tongue-in-groove or plasterboard). Plumbing may also be placed according to preference on exterior walls.
While expedient and certainly energy efficient, SIPs also have some challenges that could pose problems for some people. While SIPs meet the challenge for continuous insulation, many people prefer the structural heft of well-insulated whole log walls over foam and OSB skins.